Utwardzacze bezftalanowe to innowacyjne, ekologiczne i bezpieczne rozwiązanie w obszacze nadtlenków opracowane przez firmę United Initiators. Nowe generacja inicjatorów ma na celu usprawnienie i obniżenie kosztów produkcyjnych, a z drugiej strony w istotny sposób wpływa na podniesienie bezpieczeństwa i ochrony pracownika w miejscu pracy.
Z czego składa się jest utwardzacz?
Utwardzacz (inicjator) jest niezbędnym składnikiem potrzebnym do prawidłowego przebiegu procesu kopolimeryzacji niensyconych żywic poliestrowych oraz winyloestrowych. Standardowy inicjator MEKP to mieszanina poniższych substancji:
Monomer nadtlenku metylo-etylo-ketonu
Dimer nadtlenku metylo-etylo-ketonu
Nadtlenek wodoru
Trymer nadtlenku metylo-etylo-ketonu
Ftalany
Inne plastyfikatory
Metylo-etylo-keton
Sole
Woda
Inne dodatki
Najważniejszym składnikim inicjatora są tzw. aktywne komponenty, które odpowiadają za proces żelowania i właściwy przebieg utwardzania nienasyconych żywic poliestrowych. Do tej grupy zaliczamy nadtlenek metylo-etylo-ketonu (MEKP), jego dimery oraz nadtlenek wodoru. Suma powyższych trzech składników nie może przekroczyć 9,9% aktywnego tlenu, co odpowiada około 35% całkowitej zawartości aktywnych składników w nadtlenku. Ograniczenie to ma związek z przepisami dotyczącymi transportu i magazynowania nadtlenków organicznych. Drugim znaczącym składnikem utwardzacza jest plastyfikator, którego zawartość może sięgać aż do 70% masy utwardzacza. Powszechnie stosowanymi plastyfikatorami są:
DMP (ftalan dimetylu) – standartowe r-ry MEKP
DIBP (ftalan dibutylu) – standartowe tanie r-ry MEKP
TXIB (Diizomaślan 2,2,4-trimetylo-1,3-pentanodiolu) – np. Curox M-302, Curox M-312, Curox M-202 i Curox M-102.
Zadaniem plastyfikatora jest stabilizacja mieszaniny aktywnych składników biorących udział w reakcji kopolimeryzacji. Dobrej jakości rozpuszczalnik charakteryzuje się wysokim punktem zapłonu i temperaturą wrzenia oraz dodatkowo musi być bardzo łatwo rozpuszczalny w styrenie. Plastyfikatory nie wiążą się w strukturę przestrzenną kompozytu. W czasie procesu przetwórczego ftalany wyparowują tworząc szkodliwe dla zdrowia pary mogące powodować uczulenia i podrażnienia błon śluzowych.
Wyeliminowanie ftalanów we flagowej grupie utwardzaczy UNITED INITIATORS jakim są CUROX-y spowodowało bardzo korzystną zmianę właściwości tych produktów na kilku płaszczyznach. Mam nadzieję, że poniższe argumenty przekonają Państwa do przejścia na inicjatory bezftalanowe.
1. Wyeliminowanie szkodliwych plastyfikatorów.

2. Uzyskano produkt o obniżonej gęstości (o ok. 14%) w porównaniu do produktów konkurencyjnych, co przekłada się na dodatkowe korzyści płynące z jego stosowania.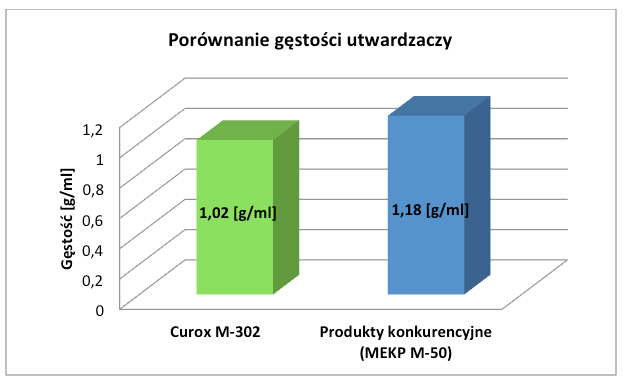 3. Przy tej samej wadze opakowania zbiorczego co w przypadku konkurencyjnych produktów, zyskuje się aż 4 litry utwardzacza!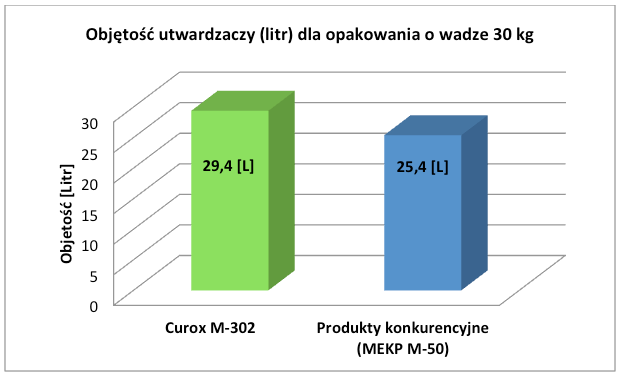 4. Niższa lepkość od systemów konkurencyjnych o 55%! Łatwe mieszanie z żelkotami i żywicami, w szczególności z poliestrami wypełnionymi (systemy niepalne, polimerobetony, kleje poliestrowe, itp.). Doskonała i szybka homogenizacja podczas natrysku wypełnionych żelkotów przy pomocy aparatów natryskowych.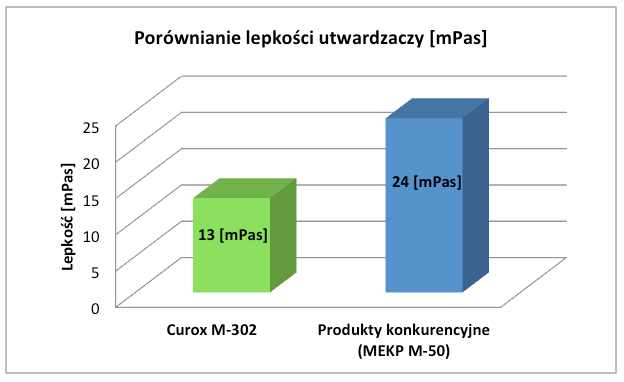 5. Wyższa dopuszczalna temperatura przechowywania! Mniejsze ryzyko pożaru. Produkt bezpieczniejszy dla funkcjonowania zakładu przetwórczego.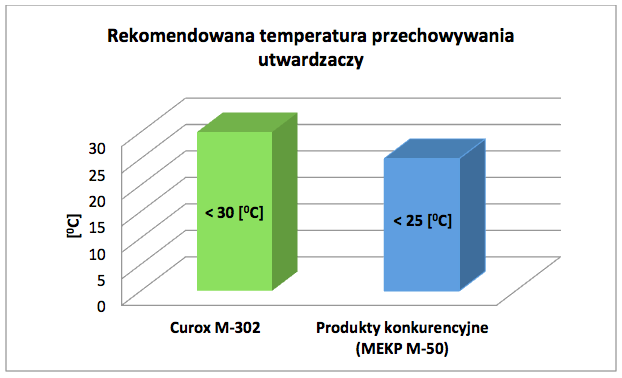 Podsumowanie: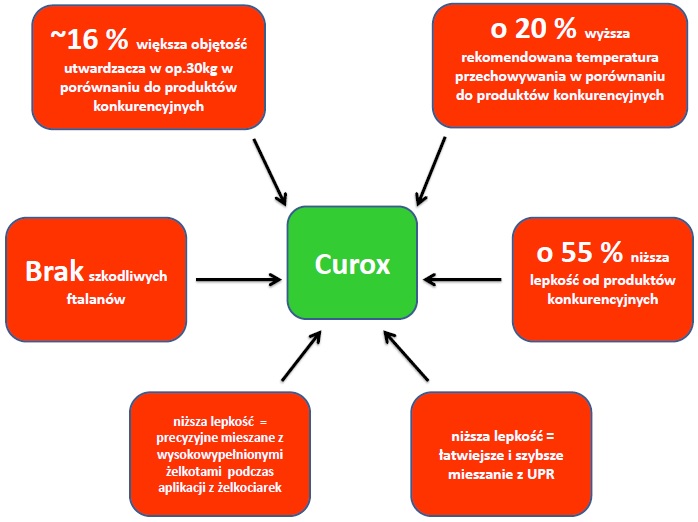 Zapraszamy również do lektury innych artykułów z działu Nadtlenki:
Utwardzacze United Initiators a sterowanie cyklem produkcji dla żywicy Synolite 8388-P-1
Proste sposoby na sterowanie procesami przetwórczymi na przykładzie utwardzaczy United Initiators.
United Initiators rozszerza ofertę utwardzaczy Curox
United Initiators dostępny w ofercie Baltazar Kompozyty!
Marcin Faron

Przedstawiciel handlowy
Doradca technicznych
Biuro w Krakowie
kom. 609 115 122
fax 058 691 01 85
e-mail:

Ten adres pocztowy jest chroniony przed spamowaniem. Aby go zobaczyć, konieczne jest włączenie w przeglądarce obsługi JavaScript.