Dzisiejszy artykuł jest prezentacją wybranych nadtlenków, produkowanych przez firmę United Initiators z Pullach w Niemczech. Pracując na żywicach poliestrowych stosujemy zazwyczaj standarowe MEKP nadtlenki metylo-etylo-ketonu (Methyl Ethyl Ketone Peroxide - MEKP), jak np. Curox M-302, Curox M-303 lub ftalan-free Curox M-312. Bardzo często powodem zmiany nadtlenku jest jedynie chęć obniżenia kosztów jago zakupu, bez głębszej analizy wpływu utwardzacza na cały cykl produkcji. A Produkcja ? musi sobie poradzić ...
Dzisiaj przedstawię współdziałanie kilku nadtlenków UI z żywicą DSM do laminowania: Synolite 8388-P-1. Synolite 8388-P-1 jest zaawansowaną żywicą na bazie DCPD, do laminowania ręcznego i natrysku. Charakteryzuje się bardzo dobrymi właściwościami przetwórczymi oraz parametrami wytrzymałościowymi.
Cechą szczególną jest niski skurcz polimeryzacyjny (do 6% objętościowo, przy przeciętnej 8-9% i wartościach pow. 9% dla żywic No-name lub przeznaczonych do innych procesów). Przejawia się to wysoką stabilnością kształtów wykonywanych detali oraz doskonałą kosmetyką powierzchni budowanych laminatów. Drugą cechą szczególną tej zywicy jest złożony system akceleracji, który umożliwia pracę zarówno na cienkich laminatach np. 1 mm jak i grubych np. do 8 mm w jednym kroku mokro-na-mokro.
Złożony system akceleracji 8388-P-1 czyni ja produktem gotowym do pracy w szerokim zakresie tamperatur i grubosci laminatów a takze produktem który nie poddaje się łatwo sterowaniem nadtlenkami. Poniżej zastawienie otrzymanych wyników :
Wykres ułatwiający porównanie otrzymanych wielkości znajduje się poniżej: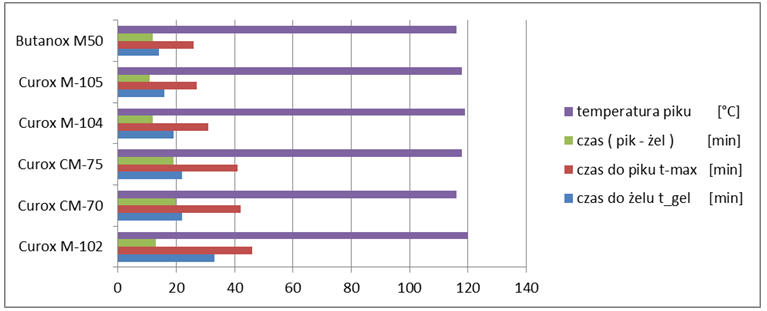 Jak widać na powyższym wykresie stosując różne utwardzacze otrzymujemy odmienne czasy żelowania Synolite 8388-P-1 oraz różne wyraźnie odmienne czasy do piku. Aby porównać szybkość reakcji żywicy dla danego nadtlenku, tj. czas do żelu, czas do piku, czas od żelu do piku oraz proporcje pomiędzy tymi wartościami, zastosowałem dwa współczynniki.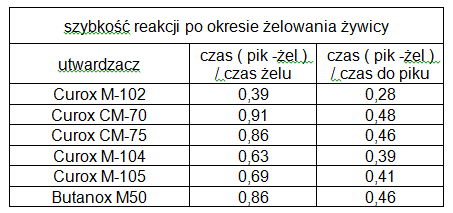 Wykres i porównanie opisanych powyżej współczynników: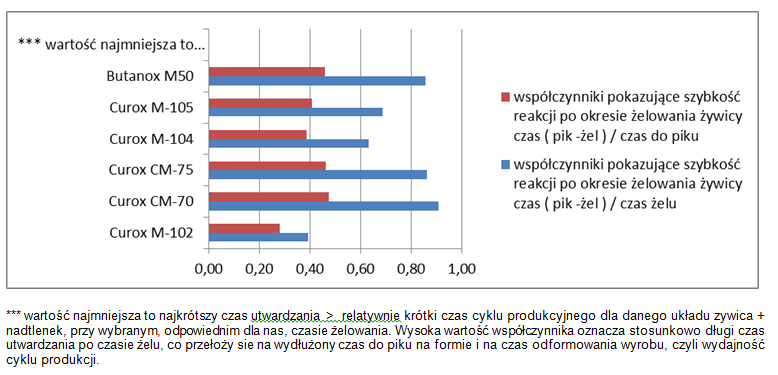 Wnioski i porównanie testowanych, na żywicy nadtlenków :
Curox M-102 zdecydowanie wydłuża na 8388-P-1 czas żelowania a jednocześnie szybko i skutecznie dotwardza laminat, jest to utwardzacz zalecany w podwyższonych temperaturach otoczenia wydłuża mocno czas laminowania i skraca czas przebywania wyrobu na formie !
Curox CM-70 i Curox CM-75 zapewniają wydłużenie czasu żelowania (do przeciętnego MEKP jak Curox M-302 czy M-50) a jednocześnie skuteczne utwardzanie cienkiego i grubego laminatu dzięki dodaniu CUHP do MEKP. Zalecamy do produkcji grubych laminatów o dobrej kosmetyce i stabilności kształtu.
Curox M-105 i Curox M-104 działają w tym przypadku podobnie do siebie, lecz dają dłuższy czas żelowania żywicy Synolite 8388-P-1 i stosunkowo szybkie, mocne utwardzanie. Zalecamy jako letnie odpowiedniki standardowych MEKP
Curox M302 przy 2% dozowaniu objętościowym posiada krótki czas żelowania i stosunkowo długi czas utwardzania, co oznacza krótki czas życia żywicy w pojemniku podczas laminowania i długi czas przebywania wyrobu na formie. Przy obniżeniu jego dawki do 1,0 czy 1,20 czas utwardzania na formie wzrasta bardzo znacząco
Próby wykonano na 2 ml nadtlenku do 100 g żywicy by pokazać że otrzymujemy wydłużony czas żelowania bez niebezpiecznego zaniżania ilości utwardzacza. W zależności od grubości laminatu i temperatury form/otoczenia regulujemy ilością nadtlenku reaktywność układu żywica nadtlenek.
Poniżej przykład egzotermii laminatu na Synolite 8388-P-1 dla 12 warstw maty 450 g/m2 w jednym kroku: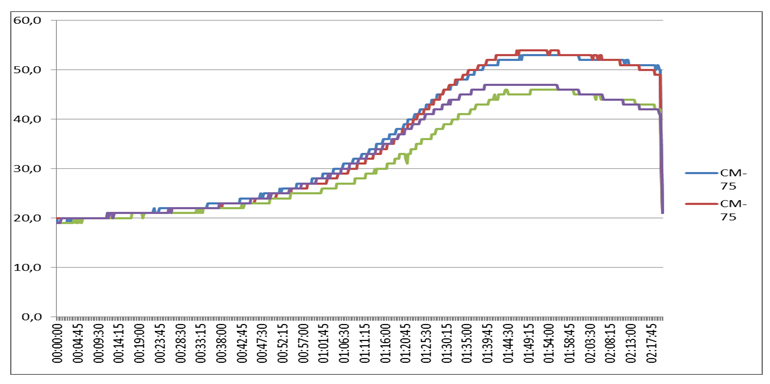 Pomiary sondami termo zatopionymi w laminacie (i rejestratorem) wykonał Paweł Tryzna w 2014 roku.

Wykonano elementy na żelkocie Buefa ISO-NPG, barierze VE, o powierzchni ca 5 m2 i zmiennych grubościach 10,00 -12,00 mm, na żywicy Synolite 8388-P-1. Temperatura żywic i otoczenia to 20oC. Uzyskano doskonałą stabilność kształtu i kosmetykę powierzchni wraz z pełnym utwardzeniem laminatów.
Nadtlenek MEKP nie jest zbudowany z MEKP !
Uczestnicy warsztatów Baltazar Open Days 2013 znają skład surowcowy powszechnie stosowanych nadtlenków i pamiętają że różnią się one między sobą proporcjami aktywnych składników (tak ważnych dla całego procesu utwardzania) a nie tylko "stężeniem" czy "rozcieńczeniem" jak myśli wiele osób z branży. Dla nadtlenków hybrydowych jak Curox M-70 i Curox M-75 do kompozycji MEKP dodano CUHP.
Jednymi z wielu składników które decydują o charakterze danego uwatrdaacza MEKP są :
Nadtlenek wodoru : wpływa tylko na start i czas żelu
MEKP Monomer (MEKP I) kończy fazę żelu i rozmoczyna utwardzanie
MEKP Dimer (MEKP Ii + III) kompletuje utwardzanie ( absolutnie niezbedny dla żywic VE i ISO)
MEKP Trymer i inne związki chemiczne: mają wpływ na całą reakcję
Pamiętamy :
celem nadrzędnym zmian jest osiągniecie odpowiedniego utwardzenia laminatu.
o efektywności procesu utwardzania świadczy czas do odformowania sztuki a nie sam czas żelu.
jakość (np. kosmetyka i HDT) oraz rodzaj laminatu (np. grubość) decydują o wyborze materiałów
Zmiana utwardzacza a koszty produkcji:
Wzrost ceny nadtlenku o 1,50 - 2,00 EUR/kg, to wzrost ceny mieszanki żywicznej jedynie o ca 0,004 do 0,020 EUR/kg.
Przy zastosowaniu właściwych dla danego procesu utwardzaczach serii Curox :
rentowność produkcji wzrośnie z uwagi na skrócenie cyklu produkcji i czas zajęcia narzędzia/formy,
koszt produkcji obniży się znacząco z uwagi na brak niedotwardzonych elementów
Koszt całkowity produkcji obejmuje koszt wszystkich czynności, mediów, narzędzi i materiałów jakie zostały użyte do wytworzenia danego elementu, łącznie z kosztem napraw i reklamacji lub ich brakiem.
Podsumowanie
Koszt surowców jest łatwo policzalny, lecz ma niski udział w koszcie całkowitym wytworzenia.
Wyłącznym dystrybutorem opisanych wyżej produktów, czyli żywicy Synolite 8388-P-1 oraz nadtlenków firmy United Initiators serii Curox, na terenie Polski, jest Baltazar Kompozyty Sp. z o.o. Więcej informacji na temat produktów dostępnych jest u naszych Konsultantów Technicznych, oraz na stronie internetowej http://www.baltazarkompozyty.pl i na kanale Youtube firmy Baltazar Kompozyty.
Jeśli chcesz otrzymywać powiadomienia o nowościach na naszej stronie raz w miesiącu oraz mieć wgląd do archiwum:
Jarosław Koksanowicz

Konsultant Techniczny
Menadżer Produktu - Żelkoty, Dodatki do produkcji
Biuro w Jeleniej Górze
kom. 605 078 871
fax 58 691 01 85
e-mail:Ten adres pocztowy jest chroniony przed spamowaniem. Aby go zobaczyć, konieczne jest włączenie w przeglądarce obsługi JavaScript.