Egzotermia bezskurczowej żywicy narzędziowej Neomould 1982-S-1 podczas laminowania formy Bardzo częstym problemem powtarzającym się przy laminowaniu form na modelach wykonywanych metodą frezowania CNC na rdzeniach ze spienionego polistyrenu (styropianu) z wykończeniem powierzchni pastami modelarskimi poliuretanowymi/epoksydowymi jest zbyt wysoka i zbyt długa egzotermia żywicy narzędziowej która jest w stanie zdeformować model oraz niedotwardzoną jeszcze strukturę formy.
Ze względu na działanie dodatków antyskurczowych wysoki pik egzotermiczny podczas utwardzania jest pożądany, jednak nie może być on na tyle wysoki aby spowodować deformację modelu. Istotą działania żywicy formierskiej Neomould 1982-S-1 jest brak skurczu, który objawia sie odbarwieniem żywicy po utwardzeniu na kolor kremowy/beżowy, przy jednocześnie niskiej i krótkiej egzotermii. Minimalna temperatura laminatu przy której żywica się nie skurczy(zadziałają dodatki antyskurczowe) to 30-35°C , przy temperaturze zewnętrznej 21-25°C. Aby osiągnąć taką temperaturę podczas budowy formy należy zalaminować minimalną gramaturę 1800g/m2 maty szklanej (4 warstwy maty 450, lub 6 x CSM 300, lub 3x CSM600) na zawartości 1,5% utwardzacza MEKP (Curox M303).
Oczywiście można pokusić się o zmianę tej gramatury, lecz zawartość utwardzacza musi nadążać za zmianą grubości laminatu i powinna się ona odpowiednio zwiększyć przy mniejszej gramaturze zbrojenia , lub zmniejszyć przy większej gramaturze. Poziom egzotermii zależy również od zawartości zbrojenia/zużycia żywicy: im mniej żywicy tym niższy poziom generowanej temperatury.
Zużycie żywicy bardzo zależy od geometrii wykonywanej formy, możliwości wywałowania laminatu oraz uniknięcia zbyt wielu powtarzających się zakładek. Przy bardzo skomplikowanych kształtach może okazać się że temperatura podczas utwardzania na 3 warstwach maty 450 będzie wyższa niż na 4 warstwach maty 450 na wyrobie o prostej geometrii. Zależy to oczywiście od ilości żywicy użytej do laminowania.
Poniżej porównanie zużycia materialów dla 1m2 powierzchni formy o kształcie bardzo prostym (płaski, bez przetłoczeń np. forma kadłuba jachtu) oraz geometrii skomplikowanej (dużo przetloczeń, kołnierzy, zakładek- np. forma wkładki dennej). Oczywiście wraz z ilością zużytej żywicy wzrasta grubość formy, ale wiadomo nie od dzisiaj ze laminat jest tym mocniejszy im mniej w nim żywicy a więcej zbrojenia.
Zestawienie zużycia materiałów dla 2 form o jednakowej powierzchni 1m2. Forma numer 1 jest płaskim prostym elementem, forma nr. 2 jest formą o skomplikowanym kształcie: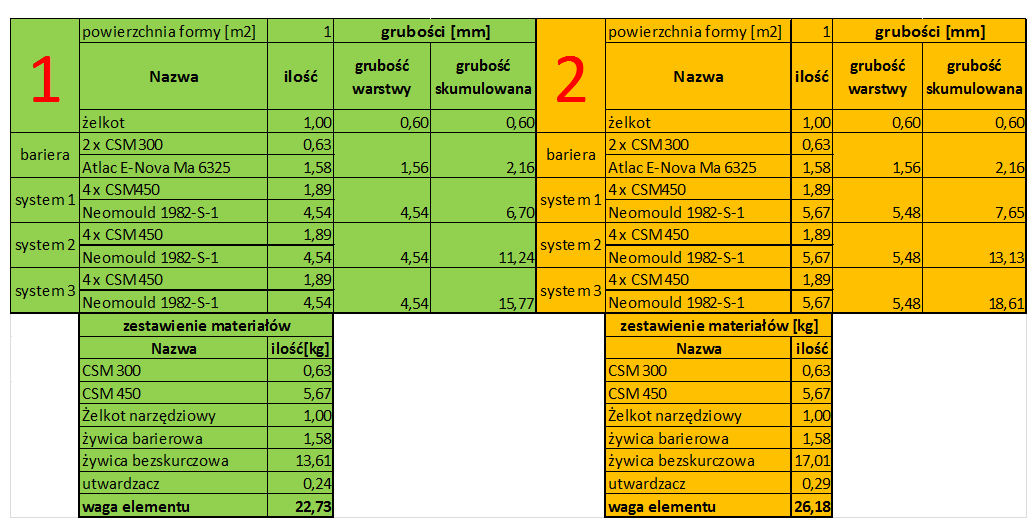 Jak widać z zestawienia materiałów jedyna różnica występuje w zużyciu żywicy ( i utwardzacza), większe zużycie żywicy przekłada sie na zwiększenie grubości laminatu oraz niewątpliwie na podniesienie piku egzotermicznego.
Trochę praktyki
Podczas wielu prób na Neomould 1982-S-1 okazało się że jest możliwe takie ustawienie żywicy że przy zachowaniu warunków na hali i precyzyjnym rozmieszczaniu zakładek warstw maty, temperatura laminatu nie przekracza 35°C-37°C, a żywica utwardza się w sposób bezskurczowy.

Egzotermia na formie a karta techniczna.....
Bardzo często okazuje sie iż wskaźniki reaktywności (czas utwardzania, temperatura piku egzotermicznego itp.) podane w karcie technicznej są bardzo odległe od tego co na codzień występuje na hali produkcyjnej. Metoda pomiaru podana w karcie żywicy Neomould 1982-S-1 wygląda tak, że do kubka zawierającego 100g żywicy dodawane jest 2g utwardzacza (Curox M303). Należy pamiętać iż parametry podane w karcie odnoszą sie ściśle do warunków i metody pomiaru. Inni producenci podobnych materiałów mogą mieć inne metody pomiaru (np. kubek z 30gramami żywicy) wiec proste porównanie danych z kart technicznych nie do końca może mieć sens....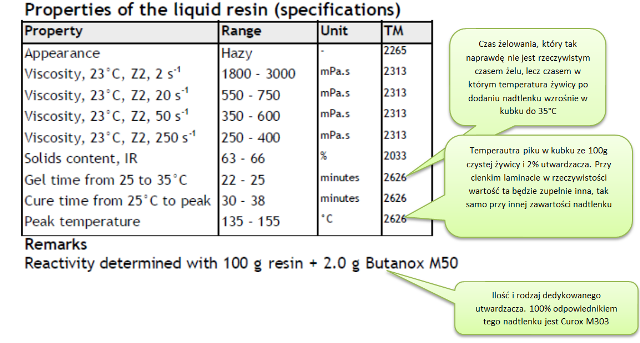 Sprawdzając reaktywność i egzotermię przy 1,5% dodatku Curoxa M303, w temperaturze 21°C okazało się że żywica jest fizycznie zżelowana(nie wypada z kubka) już przy temperaturze około 25°C, a pik temperatury jest sporo niższy od piku opisanego w karcie technicznej produktu (co jest oczywiste ze względu na inną zawartość nadtlenku). Poniżej zdjęcie z próby i wykres z rejestratora temperatury: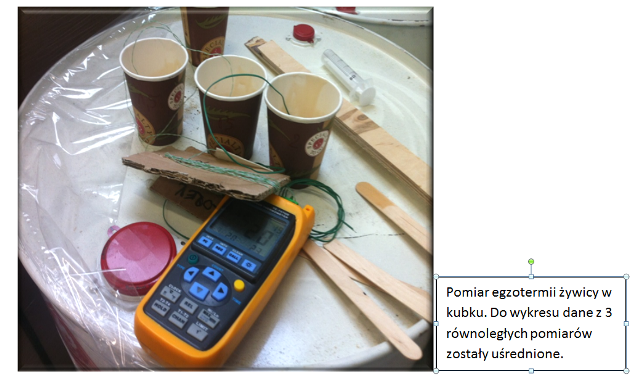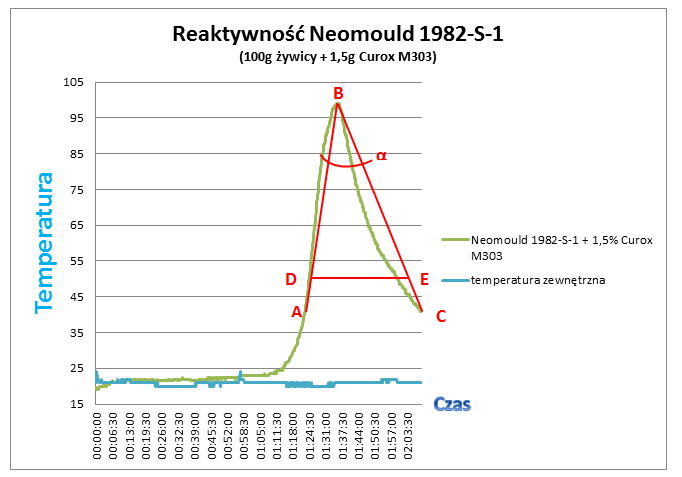 Jak widać na powyższym wykresie wszystkie parametry są inne niż podane w karcie technicznej, pomimo iż zmieniła się tylko zawartość nadtlenku i temperatura początkowa(z 25°C na 21°C).

Pragnę jeszcze zwrócić uwagę na przebieg krzywej egzotermii: bardzo szybko po rozpoczęciu reakcji utwardzania temperatura wzrasta (z 40°C do 99°C w ciągu tylko 14 minut + krzywa AB), i dosyć szybko temperatura spada (z 99°C do 40°C w ciągu 32minut+ krzywa BC). Względem innych podobnych systemów formierskich dostępnych na rynku ta żywica wykazuje najkrótsze obciążenie temperaturą modelu(szybkie ogrzewanie i szybkie samoczynne odprowadzenie temperatury). Przy naszej próbce temperatura powyzej 50°C (standardowe HDT past modelarskich) utrzymuje się tylko 35minut (krzywa DE), więc kąt α opisany na wykresie dla jak najmniejszego obciążenia temperaturą modelu powinien być jak najmniejszy. Są to wielkości (co do wartości, ale nie mechanizmu działania) tylko teoretyczne , wiadomo że w rzeczywistości na formie takie masy czystej/niezbrojonej żywicy nie wystepują.
Czas na konkrety:
Tak jak napisano powyżej, dane z kart technicznych, pomiarów w kubkach mają się nijak do tego co dzieje sie na produkcji podczas utwardzania kompozytu o grubosci rzędu 4-5mm w różnych temperaturach. Oczywiście stanowią one nieocenione źródło informacji porównawczych, lecz nie przekładają się na warunki produkcyjne.
Aby zebrać bardziej przydatne dane wykonano 3 próbki laminatu o gramaturze 1800g/m2 CSM, dwie próbki na zawartości utwardzacza 1,5% dla uśrednienia wyników pomiarów: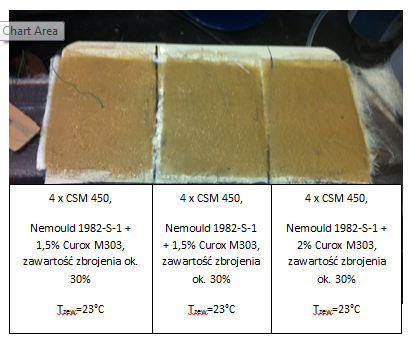 Poniższy wykres pokazuje egzotermię podczas utwardzania, dla zawartości nadtlenku 1,5% krzywa utwardzania jest średnią z pomiarów dwóch próbek.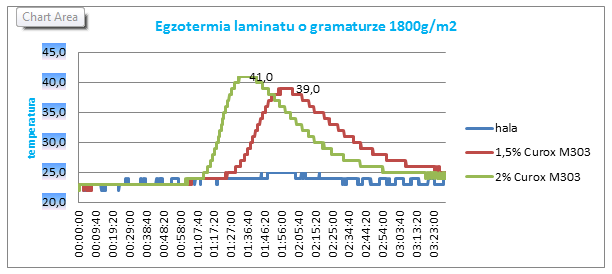 Na elemencie gotowym, wyonywanym w tych samych warunkach, na 1,5% zawartości nadtlenku w dwóch różnych lokalizacjach termopar, rozwój egzotermii wygląda następująco: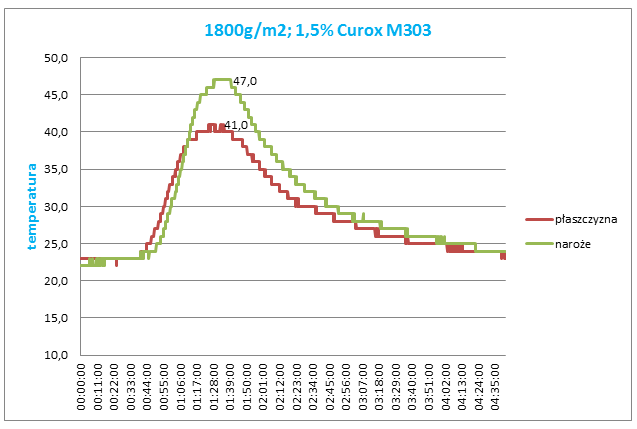 Na innym elemencie i przy temperaturze na hali niższej o około 3-4°C (ok. 21°C), zawartość nadtlenku Curox M303 1,5%; 4 warstwy maty 450g/m2: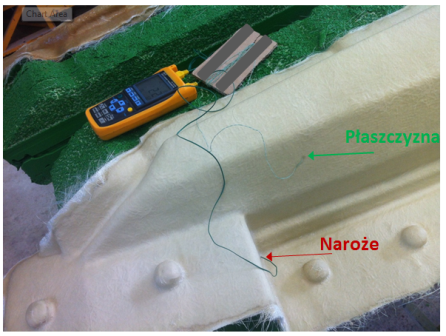 Przebieg egzotermii wygląda następująco: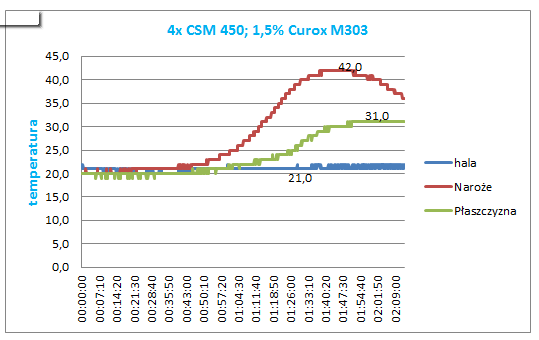 Dane zebrane w tym opracowaniu pokazują że można ograniczyć egzotermię systemu narzędziowego opartego na Neomould 1982-S-1 do poziomu, na którym nie będzie problemu z niskim poziomem HDT materiału z którego wykonane zostało kopyto/model, jednocześnie uzyskując efekt braku skurczu.
Jak pokazują testy przy użyciu odpowiedniej ilości odpowiedniego utwardzacza pik temperaturowy jest bardzo niski (poniżej 50°C) i krótkotrwały (poniżej 30minut). Jeśli masz dodatkowe pytania, skontaktuj się z autorem artykułu.
Jeśli chcesz otrzymywać powiadomienia o nowościach na naszej stronie raz w miesiącu oraz mieć wgląd do archiwum:
Pawel Tryzna


Przedstawiciel handlowy
Doradca techniczny
Koordynator do spraw wdrożeń
Biuro w Giżycku
kom. 691 999 599
fax 58 691 01 85
e-mail:Ten adres pocztowy jest chroniony przed spamowaniem. Aby go zobaczyć, konieczne jest włączenie w przeglądarce obsługi JavaScript.