Pasty klejące cz. 2 – utwardzanie, rodzaje połączeń oraz aplikacja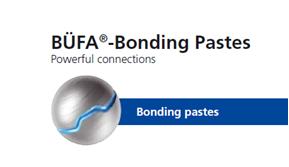 Utwardzanie.
Pasty klejące utwardzane są standardowym nadtlenkiem MEKP, np. Curox M312, którego producentem jest światowy lider na rynku nadtlenków organicznych – niemiecka firma United Initiators. Utwardzacz dozuje się wagowo do odważonej porcji pasty klejącej bezpośrednio przed zastosowaniem. Zalecana ilość utwardzacza zależna jest od rodzaju użytej pasty klejącej.
Przykładowe proporcje oraz czasy żelowania

Znaczne zwiększenie ilości utwardzacza może spowodować przegrzewanie w masie oraz osłabienie parametrów wytrzymałościowych łączenia. Produkt United Initiators dostępny jest w ofercie Baltazar Kompozyty .
Rodzaje połączeń
Na rodzaj połączenia ma wpływ bardzo wiele wskaźników takich jak wielkość i kształt łączonych elementów, wymagana grubość połączenia, wielkość i typ sił działających na miejsce łączenia. Grubość pasty klejącej ma duży wpływ na mechaniczne właściwości wytrzymałościowe - cienkie warstwy pasty klejącej (1,0 do 2,5 mm), posiadają wysokie wartości wytrzymałości, lecz należy pamiętać, że aplikując klej należy dobierać grubość warstwy klejenia w zależności od typu pasty, ponieważ niektóre z nich mają wysokie parametry wytrzymałościowe przy większych niż książkowe grubościach.
W niektórych przypadkach grubsza warstwa kleju jest wymagana ze względu na to, iż na połączenie działają duże siły dynamiczne, a warstwa klejąca ze względu na dużą elastyczność i wytrzymałość ma te siły w pewnym stopniu kompensować. W niektórych przypadkach znowu, gdy stosowany klej ma niską elastyczność, grubsza warstwa pasty klejącej obniży wartości wytrzymałościowe połączenia.
Kolejna istotna sprawa to reaktywność stosowanego kleju. Wysoko reaktywne pasty klejące dotworzą się w warstwie 1mm, ale "przepalą" przy 1cm grubości warstwy połączenia, z kolei nisko reaktywne nie dotworzą się przy 3mm, a utwardzą się dopiero przy 10-15 mm grubości warstwy.
Poniżej znajdują się poszczególne rodzaje połączeń z podziałem na siły, jakie mogą oddziaływać na połączenie.
| | |
| --- | --- |
| | rozciąganie |
| | ściskanie |
| | ścinanie |
| | zginanie |
| | odrywanie |
Kształty połączeń
Stosowane kształty połączeń wynikają w dużej mierze z wymagań dotyczących wytrzymałości jak i wymaganej kosmetyki produktu. W zależności od oczekiwań dobiera się również odpowiednia pastę klejącą zapewniającą wytrzymałość w zależności od wymaganej grubości i powierzchni połączenia. Poniżej znajdują się najbardziej typowe kształty połączeń.
| | |
| --- | --- |
| | połączenie proste zakładkowe |
| | połączenie kątowe |
| | połączenie kołnierzowe |
| | połączenie podwójne nakładające |
| | połączenie ukierunkowane |
| | połączenie wzdłużne końcowe |
Aplikacja past klejących
Pasty klejące możemy aplikować ręcznie oraz za pomocą maszyn (np. BÜFAtec Gamma4, BÜFAtec Theta11). Aplikacja maszynowa niesie za sobą konieczność zakupu kosztownej maszyny, natomiast przy odpowiednim zużyciu kleju może się szybko zwrócić zwłaszcza, że taki typ aplikacji niesie ze sobą oszczędności surowca sięgające nawet 35%.
Kolejną korzyścią jest wysoka niezawodność połączenia - kleimy dokładnie w miejscach gdzie chcemy, stosujemy zadozowaną przez maszynę optymalną ilość utwardzacza itp.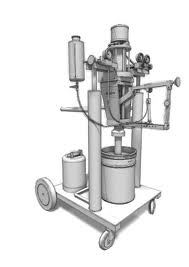 Aplikator pasty klejącej BÜFAtec BPU Gamma4
BÜFAtec BPU Gamma4 został opracowane specjalnie do pracy z pastami klejącymi bezpośrednio z małych pojemników (hoboków). Gammę używa się w przypadku zużywania do 1 tony kleju miesięcznie i nadaje się do stosowania past klejących niezbrojonych (bez włókien) i nie zawierających lekkich wypełniaczy (tzw. mikrobalonów). Pasta klejąca jest pobierana bezpośrednio z hoboka BÜFA - nie ma już konieczności uzupełniania materiału z innego pojemnika!
Zalety urządzenia:
nieskomplikowana i łatwa obsługa dzięki prostej konstrukcji oraz szybkiej wymianie hoboków

wysoka mobilność dzięki zwartej konstrukcji

niewielkie zużycie rozpuszczalnika (acetonu) dzięki 2-komponentowej głowicy mieszającej z funkcją płukania

wysoka niezawodność dzięki innowacyjnej technologii pompy oraz samoregulującym uszczelnieniom

zminimalizowane odpady materiałowe i wysokie bezpieczeństwo procesu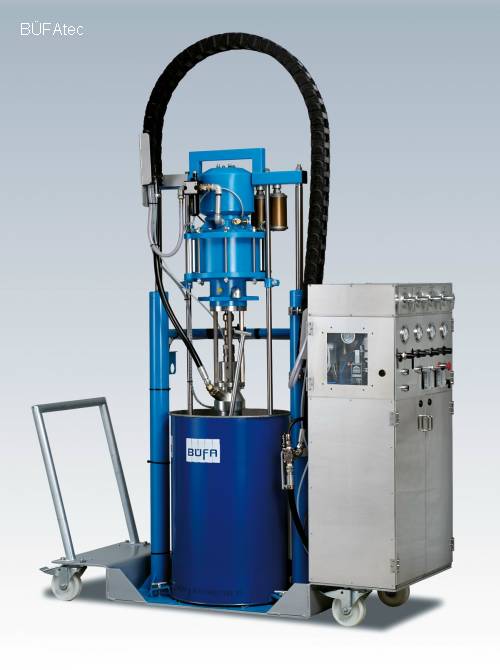 Aplikator pasty klejącej BÜFAtec Theta11
BÜFAtec Theta11 to maszyna której stosowanie zalecane jest w przypadku zużycia kleju wyższego niż 1 tona miesięcznie. Stosuje się ją do aplikacji past klejących niezbrojonych oraz niezawierających lekkich wypełniaczy, dostarczanych w beczkach. Theta 11 jest maszyną o wysokiej niezawodności, co dowiodło wieloletnie stosowanie jej przez producentów kompozytów na terenie kilkunastu krajów Europy.
Zalety urządzenia:
proste przygotowanie maszyny, łatwa obsługa

wysoka wydajność oraz cicha praca maszyny

wysoka niezawodność konstrukcji (dwuskładnikowa głowica mieszająca z funkcją płukania, zintegrowana kontrola czasu żelowania), pompy głównej (napęd powietrzny, róznicowa pompa tłokowa, system opróżniania beczek RAM) oraz pompy utwardzacza (pneumatyczny system dozowania, systemy zabezpieczające dozowanie)

możliwość indywidualnej konfiguracji maszyny
Firma Baltazar Kompozyty zajmuje się nie tylko sprzedażą i dystrybucją, lecz także doradztwem technicznym. Nasi przedstawiciele z przyjemnością doradzą Państwu w sprawach technologii dobierając ją do waszych szczególnych potrzeb i wymagań. Laboratoria BÜFA czeka, wraz z nami, na nowe wyzwania.
Jeśli chcesz otrzymywać powiadomienia o nowościach na naszej stronie raz w miesiącu oraz mieć wgląd do archiwum:
Sebastian Kosicki


Przedstawiciel handlowy
Doradca techniczny

Biuro w Gorzowie Wlkp.
kom. 605 041 771
fax 58 691 01 85
e-mail:Ten adres pocztowy jest chroniony przed spamowaniem. Aby go zobaczyć, konieczne jest włączenie w przeglądarce obsługi JavaScript.