Żywice Serii Synolite™ znalazły szerokie zastosowanie w wielu gałęziach przemysłu, między innymi:
· stoczniowym
· budownictwie komercyjnym
· przemyśle ciężkim
· górnictwie
· elektrowniach wiatrowych
W skład rodziny Synolite wchodzą żywicę Ortho, Iso, Ortho/NPG, Iso/NPG i DCPD.
Dzięki tak szerokiej bazie chemicznej i zastosowaniu jesteśmy w stanie dobrać odpowiedni produkt dla każdego klienta.
Żywica Synolite™ 5410-P-1
Synolite™ 5410-P-1 to nienasycona poliestrowa żywica na bazie kwasu ortoftalowego, o niskiej gęstości i reaktywności, tiksotropowana. Żywica ta ma wbudowany LSE (Low Styrene Emission), co pozwala na ograniczenie emisji styrenu w zakładzie produkcyjnym. Posiada także dodatek zmieniający kolor żywicy po dodaniu utwardzacza, dzięki któremu możemy zaobserwować, kiedy wymieszanie żywicy i utwardzacza jest prawidłowe. Synolite™ 5410-P-1 nie zawiera dodatku monomerycznych amin.
Główne zastosowanie:
Żywica Synolite 5410-P-1 została specjalnie stworzona do produkcji różnorodnych elementów laminatów metodą ręczną oraz natryskową.
Podstawowe parametry:
Synolite™ 5410-P-1 łączy optymalną przetwarzalność z doskonałymi właściwościami mechanicznym. Żywica ta wykazuje się dobrym przesiąkaniem zbrojenia szklanego a jej właściwości impregnacyjne mogą zostać użyte przy wielu różnych rodzajach mat szklanych.
"Grube" laminaty mogą być produkowane za jednym razem, dzięki niskiej egzotermii, a w połączeniu z dobrym utwardzaniem się tej żywicy, pozwala to także na produkcję ciężkich laminatów.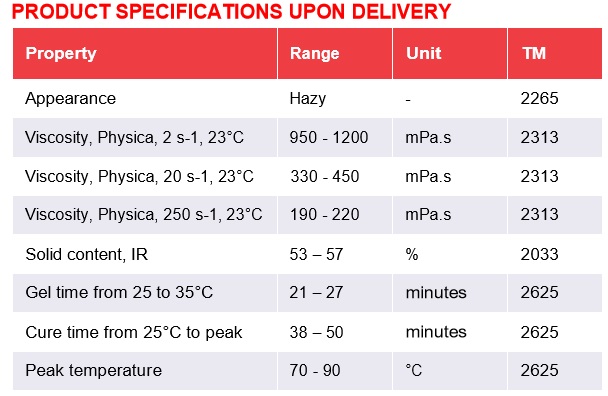 Link do karty technicznej:
https://aliancys.com/products/synolite-5410-p-1/synolite-5410-p-1-021745_1520271570.pdf
Dariusz Boba

Konsultant techniczny

kom. 605 078 871
fax 058 691 01 85
e-mail:Ten adres pocztowy jest chroniony przed spamowaniem. Aby go zobaczyć, konieczne jest włączenie w przeglądarce obsługi JavaScript.