Chciałbym przedstawić Państwu jeden z produktów specjalnych stworzonych przez BUEFA Composite Resins. Oferujemy wraz z BÜFA, produkowaną na bazie wysokotemperaturowych, ortoftalowych żywic DSM Composite Resins, żywicę do laminowania ręcznego o nazwie BÜFA Resin 9090 HLU, nr artykułu BÜFA 700-9090.
Żywica BÜFA Resin 9090 HLU jest przeznaczona do budowania laminatów dla przemysłu motoryzacyjnego i maszynowego, które muszą pracować w podwyzszonych temperaturach przy zachowaniu odpowiednich parametrów wytrzymałościowych. Produkt ten charakteryzuje się :
dobrymi własnosciami przetwórczymi (żywica jest między innnymi akcelerowana i tiksotropowana)
niskim ciężarem właściwym: ca 1,00 g/ml gdzie przeciętna innych żywic to 1,10 g/ml
HDT min 90*C przy odpowiednim dotwardzaniu i wygrzewaniu
dobrym zwilżaniem zbrojeń szklanych różnego rodzaju
Zapisany w technicznej karcie produktu czas żelowania dla 2ml Butanox M50 wynosi ca 21 – 27 minut. Przy czym jest to wartość laboratoryjna, zgodna z normą DIN 16 945 6.2.2.1, w której mierzony jest czas żelu i piku temperaturowego na podstawie wzrostu temperatury z 20 do 30 °C.
Przedstawię w tym artykule wynik testów przeprowadzonych na BÜFA Resin 9090 HLU z wybranymi nadtlenkami produkcji United Initiators, w warunkach podwyższonych temperatur, które skutecznie potrafią wpływać na jakość produkcji w okresie letnim. Pomiar czasu żelu fizycznego dla żywicy o temperaturze 27,2 °C, temperatury powietrza 26,0 °C, 100 g żywicy w kubku + 1,50 ml wybranego nadtlenku. Jako czas żelu określono punkt gdy lepkość żywicy przekracza 2000 mPa.s i gwałtownie rośnie, co praktycznie uniemożliwia dalsze zwilżanie zbrojeń i odpowietrzanie laminatu.

Wykres ułatwiający porównanie otrzymanych wielkości: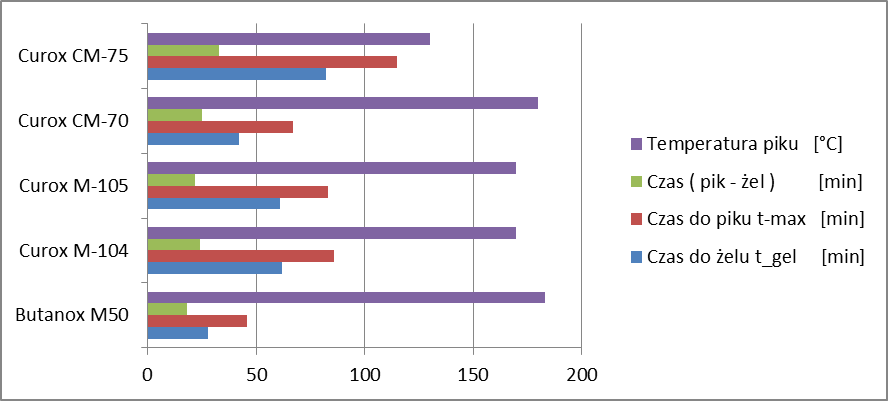 Jak widać na powyzszym wykresie stosując różne utwardzacze otrzymujemy odmienne czasy żelowania 700-9090 oraz czasy do piku oraz jego wartość w stopniach Celsjusza. Aby porównać szybkość reakcji żywicy dla danego nadtlenku, tj. czas do żelu, czas do piku, czas od żelu do piku oraz proporcje pomiedzy tymi wartościami, zastosowałem dwa współczynniki.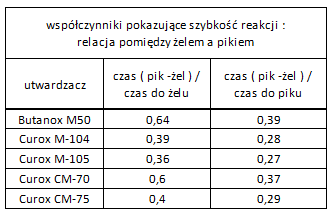 Wykres i porównanie opisanych powyżej współczynników :

Niska wartość obu wyżej pokazanych współczynników oznacza relatywnie krótki czas cyklu produkcyjnego dla danego układu zywica + nadtlenek, przy wybranym, odpowiednim dla nas, czasie żelowania.
Wysoka wartość współczynnika oznacza stosunkowo długi czas utwardzania po czasie żelu, co przełoży sie na wydłużony czas do piku na formie i na czas odformowania wyrobu, czyli niską wydajność cyklu produkcji.
Proszę pamiętać że pokazane tu wartości dotyczą kubka a 100 g, a laminat o grubosci np. 4 mm będzie miał czas żelowania i piku wydłużony np. o 30-50 % do wyżej opisanych. Przykład: nadtlenek Curox M-75, będący hybrydą MEKP i CUHP (Cumen peroxide), zapewnia stosunkowo szybki czas odformowania dla najdłuższego czasu żelu.
Wnioski i porównanie testowanych, na żywicy BÜFA Resin 9090 HLU, nadtlenków :
Butanox M50 ma krótki czas żelowania i stosunkowo długi czas utwardzania, co oznacza krótki czas życia żywicy z utwardzaczem w pojemniku podczas laminowania i długi czas przebywania wyrobu na formie
Curox CM-70 wykazuje charakter zbliżony do Butanox M50 na żywicy 700-9090, lecz zapewnia dłuższy czas żelu i dobre skuteczne utwardzanie cienkiego laminatu dzięki zawartosci CUHP.
Curox CM-75 zapewnia najdłuższy czas żelowania tej zywicy i zapewnia stosunkowo krótki czas utwardzania laminatu przy niskim piku egzotermicznym.
Curox M-105 i Curox M-104 działają w tym przypadku podobnie do siebie,, lecz dają zdecydowanie dłuższy czas żelowania żywicy BÜFA Resin 9090 HLU i stosunkowo szybkie, mocne utwardzanie.
Sugerowane zalecenia dotyczące przetwarzania BÜFA Resin 9090 HLU :
w podwyższonych i standardowych temperaturach warto stosować Curox M-105 lub Curox M-104, które zapewnią najszybszą i bezpieczną produkcję. Zastosowanie cienkie i średniej grubości laminaty
w podwyższonych temperaturach, w okresie letnim, Curox M-75 zapewni nam najdłuższy czas żelu i dobre utwardzanie . Stosujemy go przy dużych, czasochłonnych i grubych laminatach.
w temperaturach standardowych i niskich warto zamienić Butanox M50 na Curox CM-70: wydłuży czas do laminowania i skróci czas dotwardzania na formie.
Podsumowanie :
Curox M-105, Curox M-104 oraz Curox CM-70 i Curox CM-75 dadzą bezpieczny długi czas żelowania przy 1,50 % nadtlenku i stosunkowo szybie utwardzanie = szybki czas odformowania = wzrost rentowności produkcji.
Gdy pracownicy zaniżą ilość dodawanego do żywicy Butanoxu M50 poniżej 1%, aby uzyskać "bezpieczny" dla nich czas żelu na laminacie którego konsolidacja zajmuje np. 50 czy 60 minut, to otrzymamy bardzo wydłużony czas utwardzania wyrobu na formie i często trwale niedotwardzony (nieusieciowany) laminat co powoduje całkowitę stratę wyrobu, materiałów, robocizny i czasu = s trata oraz brak zysku na całej operacji.
Próby wykonano na 1,50 ml nadtlenku do 100 g żywicy by pokazać że otrzymujemy wydłużony czas żelowania bez niebezpiecznego zaniżania ilości innego utwardzacza. Aby otrzymać oczekiwane minimalne HDT 90oC gotowego laminatu, dotwardzanie w 85-90oC jest zalecane.
Zmiana utwardzacza a koszty produkcji:
Wzrost ceny nadtlenku o 1,50 - 2,00 EUR/kg, daje wzrost ceny surowców jedynie o ca 0,004 do 0,020 EUR/kg. Przy zastosowaniu własciwych dla danego proceu i wielkości laminatu, wymienionych utwardzaczy serii Curox :
rentowność produkcji wzrośnie z uwagi na skrócenie cyklu produkcji i czas zajęcia narzędzia/formy
koszt produkcji obniży się znacząco z uwagi na brak niedotwardzonych elementów
Wyłącznym dytrybtorem opisanych wyżej produktów, czyli żywicy BÜFA Resin 9090 HLU oraz nadtlenków Curox, na terenie Polski, jest Baltazar Kompozyty Sp. z o.o..
Więcej informacji na temat produktów dostępnych jest u naszych Konsultantów Technicznych, oraz na stronie internetowej http://www.baltazarkompozyty.pl i na kanale Youtube firmy Baltazar Kompozyty.
Jeśli chcesz otrzymywać powiadomienia o nowościach na naszej stronie raz w miesiącu oraz mieć wgląd do archiwum:
Jarosław Koksanowicz

Konsultant Techniczny
Menadżer Produktu - Żelkoty, Dodatki do produkcji
Biuro w Jeleniej Górze
kom. 605 078 871
fax 58 691 01 85
e-mail:Ten adres pocztowy jest chroniony przed spamowaniem. Aby go zobaczyć, konieczne jest włączenie w przeglądarce obsługi JavaScript.