Zielona rewolucja
Beyone™ 1 – bezstyrenowa I bezkobaltowa żywica do infuzji składająca się w 40% z biomateriałów. Wyroby kompozytowe muszą posiadać spójną strukturę, ponieważ są zwykle narażone na działanie wysokich obciążeń dynamicznych oraz zmęczenie. Wprowadzając żywicę Beyone ™ 1 DSM Composite Resins potwierdza swoją misję jaką jest tworzenie trwałych i jak najbardziej ekologicznych rozwiązań dla swoich klientów, którzy z kolei oczekują wysokiej jakości materiałów , które zapewnią wysoką trwałość ich produktów przy jednoczesnym spełnieniu rygorystycznych norm środowiskowych.
W branży budowlanej, Marine oraz energi wiatrowej stosowanie procesów infuzji próżniowej staje się coraz bardziej popularne ze względu na możliwość wytwarzania dużych konstrukcji na skalę przemysłową. Wybór konstrukcji laminatu oraz żywicy bazowej w głównej mierze wynika ze znalezienia równowagi pomiędzy łatwością i solidnością produkcji ( głównie oferowanymi przez stosowanie żywic poliestrowych oraz winyloestrowych) i wysokiej wytrzymałości oraz odporności zmęczeniowej (parametry charakterystyczne dla żywic epoksydowych). Teraz DSM Composite Resins czyni możliwym połączenie tego co najlepsze z obu "światów", które jest przyjazne dla środowiska!
Dyskusje na temat niebezpiecznych właściwości styrenu i kobaltu są ciągle prowadzone i brak jak dotąd konkretnych ustaleń. Jednakże gdy alternatywne rozwiązania staną się dostępne to z pewnością prawdopodobieństwo, że klienci zechcą stosować takie rozwiązania, bardzo się zwiększy. Prowadzone rozmowy o przekwalifikowaniu styrenu oraz octanu kobaltu są ważnym etapem w kierunku stworzenia środowiska bardziej korzystnego dla rozwoju czystszych i trwalszych materiałów.
DSM Composite Resins jest w czołówce producentów, którzy wprowadzają nowe produkty i technologie, spełniające najbardziej rygorystyczne wymagania. Rewolucyjna żywica Beyone™ 1 jest wyjątkowa w tej perspektywie. Łączy w sobie zarówno łatwą przetwarzalność typową dla poliestrów i winyloestrów jak i doskonałe parametry mechaniczne i wytrzymałość zmęczeniową charakterystyczne dla żywic epoksydowych.
Dzięki niskiej lepkości żywica łatwo przesyca zbrojenie szklane i zwiększa szybkość procesu produkcyjnego. Blisko 40% użytych surowców pochodzi ze źródeł odnawialnych co znacznie pomniejsza ślad ekologiczny ( ecological footprint) i może mieć ogromne znaczenie w przypadku gdy dostępność obecnie stosowanych surowców kopalnych ulegnie zmniejszeniu.
DSM był w stanie stworzyć żywicę Beyone™ 1 bazując na swoim ogromnym doświadczeniu i dostarcza przełomową bezstyrenową i bezkobaltową technologię. System utwardzania tej przyspieszonej żywicy oparty jest na technologi BluCure ™.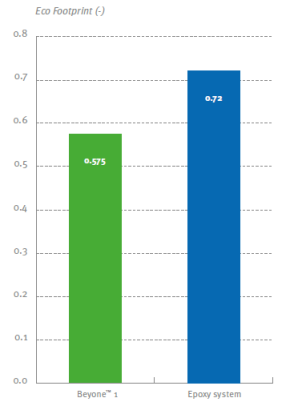 Żywica Beyone™ 1 dzięki niskiej lepkości łatwo impregnuje zbrojenie szklane co daje powtarzalność procesu i jednorodną strukturę laminatu. Szybki proces infuzji redukuje czas zajęcia formy i daje większą ilość odformowań. Zazwyczaj elementy wykonane na Beyone™ 1 nie wymagają podwyższonej temperatury do właściwego utwardzenia, gdyż żywica ta utwardza się w temperaturze pokojowej. Ponadto elementy o wysokiej jakości wymagają dużo mniejszego wygrzewania w porównaniu do konkurencyjnych rozwiązań opartych na epoksydach.
Ze względu na brak styrenu żywica Beyone™ 1 prawie nie ma żadnego zapachu zarówno w stanie ciekłym jak i po utwardzeniu. Dzięki temu nie wymagana jest inwestycja w drogie i skomplikowane systemy wentylacyjne oraz opłaty środowiskowe. Dla producentów elementów kompozytowych oznacza to zmniejszenie inwestycji kapitałowych i łartwiejszy proces uzyskania wszelkich pozwoleń na rozpoczęcie produkcji. Dla samych pracowników oznacza to z kolei lepsze i bardziej bezpieczne środowisko pracy.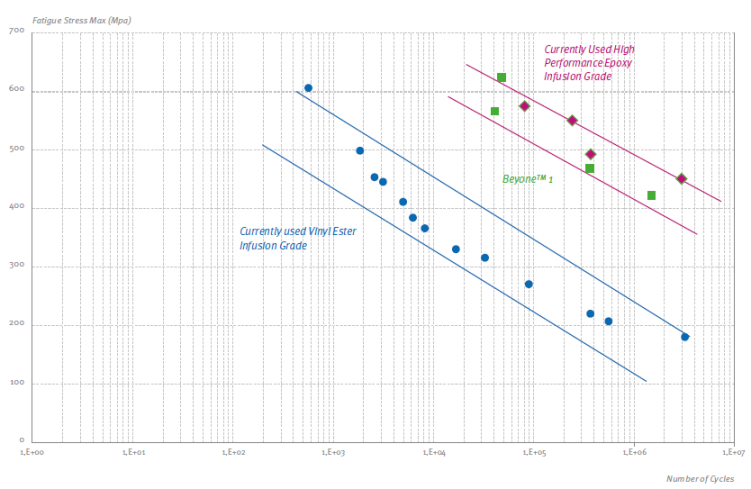 Testy zmęczeniowe laminatów wykonanych na żywicy Beyone™ 1 wykazały porównywalny poziom wyników z laminatami epoksydowymi - doskonałe właściwości mechaniczne oraz odporność temperaturową. Żywica Beyone™ 1 posiada znakomitą wytrzymałość, porównywalną, a w niektórych przypadkach nawet wyższą od epoksydów.

Podsumowując, kluczowe zalety żywicy Beyone™ 1 to przede wszystkim:
doskonałe parametry wytrzymałościowe i zmęczeniowe
łatwe przetwarzanie
brak styrenu i kobaltu
emisja substancji szkodliwych bliska zeru
40% żywicy to biokomponenty
Po więcej informacji zapraszamy do kontaktu z autorem artykułu lub do członków zespołu handlowego firmy Baltazar Kompozyty Sp. z o.o.
Jeśli chcesz otrzymywać powiadomienia o nowościach na naszej stronie raz w miesiącu oraz mieć wgląd do archiwum:
Rafał Sielicki

Przedstawiciel handlowy
Doradca techniczny
Biuro w Gdańsku
kom. 607 481 591
fax 058 691 01 85
e-mail:

Ten adres pocztowy jest chroniony przed spamowaniem. Aby go zobaczyć, konieczne jest włączenie w przeglądarce obsługi JavaScript.