METODY APLIKACJI ŻELKOTÓW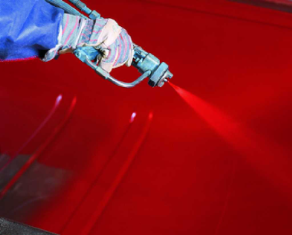 Przy aplikacji żelkotu najlepsze efekty możemy osiągnąć poprzez idealnie naniesioną jego warstwę , której grubość powinna wynosić 400-600 μm, mierzone na mokro. Odpowiada to ilości 500-700 g/m². Naniesiona cieńsza warstwy żelkoty może prowadzić do niedotwardzenia się żelkotu. W takim przypadku żelkot wysycha fizycznie zamiast sieciować się w reakcji chemicznej, co w dalszym procesie laminowania może prowadzi do tworzenia się pofalowanej powierzchni żelkotu tzw. ,,skóry słonia,,.
Nałożenie zbyt grubej warstwy żelkotu czyli czystej warstwy żywicy mogą z kolei prowadzi do naprężeń w warstwie powierzchniowej, co objawia się w postaci rys lub przedwczesnego, samoistnego odformowania żelkotu. Przez aplikację zbyt grubej warstwy utrudnione jest również odpowietrzanie żelkotu. Naniesienie zbyt grubej warstwy żelkotu w jednym przebiegu może prowadzi do spływania żelkotu. Często, jako efekt takiego procesu dochodzi do zamykania się porów czy do separacji pigmentów.
Ważnym elementem podczas aplikacji jest zapewnienie odpowiedniej wentylacji w głębokich formach. Opary styrenu oraz gazowe produkty sieciowania mogą mieć, bowiem negatywny wpływ na utwardzanie żelkotu. Z tego powodu konieczne jest zapewnienie odpowiedniego ruchu powietrza w celu usunięcia lotnych substancji nagromadzonych nad powierzchnią żelkotu. Tutaj można sobie pomóc poprzez przechylenie form, gdy cięższe od powietrza pary styrenu wypłyną z formy w kierunku podłogi.
Kolejnym czynnikiem od którego zależy wygląd naszej powłoki żelkotowej jest tlen z powietrza, który, może hamować reakcje utwardzania się żelkotu, co objawia się w lekkiej kleistości powierzchni materiału. Przed rozpoczęciem procesu laminowania należy upewnić się , że żelkot jest odpowiednio usieciowany. Sprawdzić to możemy w łatwy sposób, poprzez kontrolę powierzchni palcami, gdy po przeciągnięciu palcami po powierzchni żelkotu, żelkot ,,piszczy,, , jest on gotowy do laminowania. Zbyt wczesne rozpoczęcie procesu laminowania może prowadzi do rozpuszczania warstwy żelkotu przez styren w znajdujący się w żywicy.
Żelkoty mogą być przetwarzane w różnoraki sposób. Najważniejszymi procesami przetwarzania jest aplikacja w procesie natrysku, nanoszenie ręczne lub aplikacja wałkiem .
NANOSZENIE RĘCZNE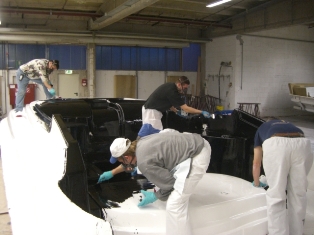 Nanoszenie ręczne za pomoc pędzla jest najprostszą metod przetwarzania żelkotu. Zaletami tej metody jest niska emisja styrenu oraz bardzo dobre odpowietrzanie żelkotu.
Żelkot do przetwarzania ręcznego powinien by pigmentowany i tiksotropowany w taki sposób, aby ślady po pędzlu nie były widoczne na powierzchni.
Żelkot nanoszony ręcznie powinien być aplikowany na nasz element w dwóch warstwach po 300μm.
Druga warstwa żelkotu powinna zostać naniesiona dopiero wtedy, gdy pierwsza warstwa jest już utwardzona aby zapobiec odrywaniu pierwszej warstwy żelkotu.
W tym procesie nie jest jednak łatwe naniesienie równomiernej warstwy żelkotu na całym budowanym elemencie.
NANOSZENIE NATRYSKIEM
Nanoszenie warstwy żelkotu natryskiem jest możliwe do zrealizowania na wiele sposobów. Ich cechą wspólną jest szybszy czas nanoszenia w porównaniu z nanoszeniem ręcznym. Do tej aplikacji stosuje się modyfikowane żelkoty charakteryzujące si dobrym odpowietrzaniem oraz niższą lepkością , która pozwala na jego dobre przetwarzanie. Poprzez natrysk do systemu wprowadzane jest dużo więcej powietrza. Proces ten charakteryzuje się także wyższą emisją.
Najlepszą metodą nanoszenia żelkoty poprzez jego natrysk, jest aplikacja żelkotu w dwóch warstwach, przy czym pierwsza warstwa powinna wynosi około 200-300 μm. Przy takiej grubości jesteśmy w stanie zagwarantować odpowiednie odpowietrzanie się żelkotu. Druga warstwa powinna zostać naniesiona po około 2 minutach na jeszcze nie wyschniętą warstwę żelkotu. Całkowita grubość żelkotu powinna wynosi oko o 600μm. Pod czas natrysku, pistolet natryskowy powinien by skierowany prostopadle do formy i utrzymany w odległości około 50 cm od powierzchni formy, w zależności od dyszy i rodzaju żelkotu. Natrysk powinien być wykonany na krzyż .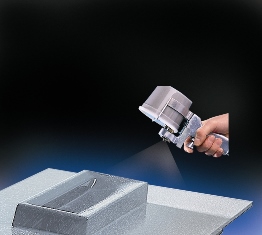 Aby zapewnić możliwie najmniejszą emisję styrenu oraz najlepsze odpowietrzenie, kropelki żelkotu powinny by możliwie duże a, ciśnienie natrysku powinno być możliwie niskie. Efekt taki uzyskuje się przy pomocy nowoczesnych instalacji średniociśnieniowych lub tzw. instalacji HVLP (High Volume, Low Pressure) lub w przypadku natrysku kubkiem za pomoc większych dysz.
Najprostszą metod natrysku żelkotu jest zastosowanie pistoletu kubkowego (np. Polycon). W przypadku zastosowania urządzenia Polycon, natrysk odbywa się przy pomocy zastosowania kubka, w którym znajduje się 1 kg lub 2,5 kg żelkotu wymieszanego uprzednio z nadtlenkiem. Pistolet Polycon stosuje się do natrysk małych elementów z częstą zmianą koloru żelkotu. Możliwe jest także natryśnięcie żelkotu wymieszanego z granulatem lub płatkami (efekty specjalne na żelkocie) jak również do żelkotów Firestop (samogasnących, wysoko wypełnionych).
Do standardowego natrysku żelkotu potrzebne jest użycie specjalnych maszyn. Rozróżniamy tutaj dwa sposoby:
natrysk tzw. metod Airless z zewnętrznym mieszaniem (wadą jest możliwy tzw. rozdmuch nadtlenku przy złym ustawieniu instalacji)
natrysk z mieszaniem wewnętrznym nadtlenku co wymaga zastosowania w urządzeniu specjalnej linii czyszczącej pistolet po zakończonym procesie natrysku.
Obydwa sposoby nadają się do ciągłego wytwarzania w seryjnej produkcji oraz do średnich i dużych elementów. Dozowanie utwardzacza następuje w sposób automatyczny. W ten sposób zapewnione jest ciągłe dozowanie dawki utwardzacza, co uniezależnia przebieg procesu nakładania żelkotu i eliminuje błąd ludzki, a w dalszej części pozwala na uniknięcie, niebezpieczeństwa przegrzewania pozostawionych do utwardzania resztek żelkotu jak w przypadku pistoletu kubkowego.
Aby dowiedzieć się więcej zadaj pytanie autorowi:
Jeśli chcesz otrzymywać powiadomienia o nowościach na naszej stronie raz w miesiącu oraz mieć wgląd do archiwum:
Dariusz Surowiec
Technik Maszyn BufaTec
Inżynier wsparcia technicznego

kom. 607 668 627
fax 58 691 01 85
e-mail:

Ten adres pocztowy jest chroniony przed spamowaniem. Aby go zobaczyć, konieczne jest włączenie w przeglądarce obsługi JavaScript.