Żelkot - ładna strona laminatu
Żelkot jest tym co powoduje, że nasze wyrób z włókna szklanego wygląda atrakcyjnie i praktycznie. Technicznie, jest to żywica poliestrowa z dodatkiem odpowiednich wypełniaczy oraz pigmentów, która żeluje na powierzchni formy, a następnie łączy się z kolejnymi warstwami zbrojeń szklanych tworzących konstrukcję laminatu.
Żelkot wiernie odwzorowuje powierzchnie formy, nadaje naszemu produktowi żądany przez nas kolor oraz chroni zbrojenie przed działaniem elementów zewnętrznych takich jak np. woda czy promieniowanie UV. W wielu przypadkach powierzchnia, na którą został zaaplikowany żelkot, to jedyna część struktury laminatu jaką widzimy.
Przy produkcji żelkotu żywice, wypełniacze, pigmenty czy przyspieszacze są starannie dobierane i opracowywane tak, aby dążyć do nieustannej poprawy jakości powierzchni, która powoduje, że produkowane przez nas elementy będą trwałe oraz pożądane przez naszych klientów. Od tego jak będziemy obchodzili się z żelkotem, zależeć będzie dalsza akceptacja i powodzenie w sprzedaży naszego produktu przez końcowego odbiorcę.
Poszczególne elementy systemu żelkotu wpływają na jego jakość i właściwości robocze.
Żywica - podstawowy składnik żelkotu, który zapewnia chemiczną kompozycje oraz określają właściwości chemiczne i fizyczne. Jej podstawowymi elementami oprócz monomeru są odpowiednie kwasy oraz glikole zapewniające wymagane właściwości fizykochemiczne, i tak na przykład:

kwas ortoftalowy posiada niewielką odporność na działanie wody i środków chemicznych oraz promieniowania UV, stąd żywice na jego bazie stosuje się wszędzie tam gdzie taka odporność nie jest wymagana – np. do produkcji żelkotów stosowanych wewnątrz pomieszczeń.
kwas izoftalowy, zapewnia wyższą odporność na działanie wody oraz środków chemicznych niż ortoftalowy bezwodnik, szczególnie ważne przy produkcji łodzi,pryszniców czy wanien. Wysoka odporność na działanie chemii,wody i korozji oraz wysoki stopień elastyczności stawia żywice izoftalową stopień wyżej od żywicy ortoftalowej.
glikol propylenowy – standardowy glikol stosowany przy produkcji żywic poliestrowych o typowych właściwościach
glikol neopentylowy stosuje się wszędzie tam gdzie wymagana jest podwyższona odporność na działanie hydrolizy i agresywnej chemii

Pigmenty i ich jakość określane są przez dwa czynniki kolor widziany i jego integralność co w prostych słowach oznacza odporność na zmiany koloru (blaknięcia) pod wpływem działania środowiska zewnętrznego np. UV.
Wypełniacze znajdujące się w żelkocie zapewniają nam odpowiednią charakterystykę np. natrysku oraz zapewniają odpowiednie właściwości fizyczne żelkotu po jego utwardzeniu.
Krzemionka tiksotropująca. Właściwość niektórych rodzajów płynów, w których występuje zależność lepkości od czasu działania sił ścinających, które na ten płyn działały większa część lepkości żelkotu pochodzi od tiksotropii, zadaniem tiksotropii jest utrzymanie żelkotu na pionowej powierzchni.
Przyspieszacze/Promotory - stosowane są do sterowania procesem utwardzania pozwalają na zwiększenie szybkości żelowania oraz dają większą możliwość kontroli nad przebiegiem całego procesu. Jakość oraz wygląd każdej części zależy od żelkotu, urządzenia zastosowanego do aplikacji oraz umiejętności operatora (malarza).
Każdy z tych składników jest bardzo istotny do osiągnięcia żądanych przez nas końcowych rezultatów. Codzienna praca z żelkotem nie zawsze jest łatwa i przyjemna, żelkot potrafi dostarczyć nam również wiele problemów, z którymi nie potrafimy sobie poradzić lub znaleźć przyczyny ich powstawania. Niestety wiele z tych defektów powstaje z winny człowieka i popełnianych przez niego podstawowych błędów.
Poniżej znajduje się niewielki arkusz, w którym w łatwy sposób można znaleźć podstawowe defekty powstające na powłoce żelkotowej oraz przyczyny ich powstawania.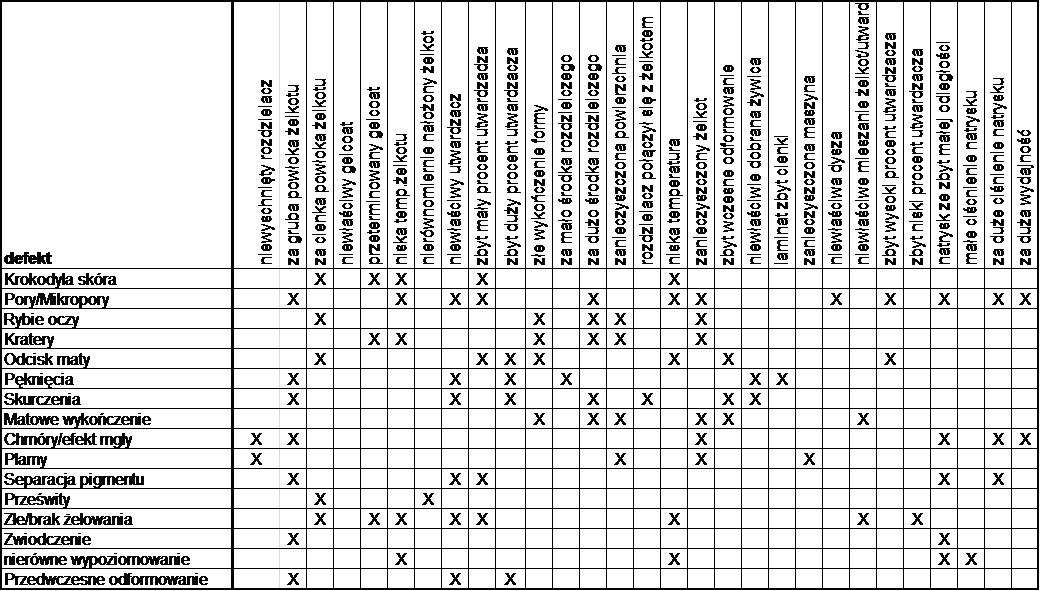 Może się okazać że dla wielu z was większość z tych problemów jest doskonale znana i łatwo można zdefiniować źródło ich powstawania oraz wiecie co dokładnie zrobić żeby im zapobiec. Jjest jednak spora grupa osób , która dopiero zaczyna swoją przygodę z produktami z żywic poliestrowych i nie do końca potrafi sobie poradzić z napotykanymi problemami, dlatego powyższa ściąga może być im pomocna.
Jeśli chcesz otrzymywać powiadomienia o nowościach na naszej stronie raz w miesiącu oraz mieć wgląd do archiwum:
Dariusz Surowiec
Technik Maszyn BufaTec
Inżynier wsparcia technicznego

kom. 607 668 627
fax 58 691 01 85
e-mail:

Ten adres pocztowy jest chroniony przed spamowaniem. Aby go zobaczyć, konieczne jest włączenie w przeglądarce obsługi JavaScript.