Nie ma kompromisów, liczy się jakość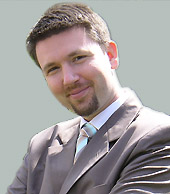 Rozmowa z Michałem Kłosin, Kierownikiem Handlowym firmy Baltazar Kompozyty, przedstawiciela firmy Büfa w Polsce w Gazecie Przemysłu Jachtowego nr 1/2011.
GPJ: Żelkoty na bazie IZO/NPG to produkt, który stawia pierwsze kroki na polskim rynku jachtowym. Jakie upatruje Pan zainteresowanie produktem w naszym kraju?
M.K.: Obsługujemy na terenie całej Polski wiele firm z branży Marine, są to zarówno duże stocznie jachtowe produkujące luksusowe jednostki żaglowe czy motorowe, jak i niewielcy producenci łódek, małych jachtów i kajaków. Pośród tych firm występuje duże zróżnicowanie, jeśli chodzi o podejście do jakości stosowanych produktów oraz wykorzystywanych technologii. W większości duzi producencie mają większą świadomość biznesową i techniczną, a co się z tym wiąże przykładają większą uwagę do jakości stosowanych surowców do produkcji.
Często ta świadomość wymuszona jest przez kooperantów za granicą, do których dostarczają jednostki lub ich elementy jako podwykonawcy. Mniejsi producenci znowu często stosują surowce niższej klasy ze względu na konieczność wyprodukowania jednostek jak najtańszych, bo taką postawę wymusza konkurencja cenowa tam gdzie jest wielu dostawców oferujących produkty praktycznie nie różniące się ze sobą.
Tacy producenci również nie dbają o rozwój swojego biznesu – ponieważ nie budują świadomości klienta, nie przekonują go że najniższa cena to nie wszystko, że ważne są również inne parametry takie jak odporność na działanie wody (stosowanie żelkotów ISO-NPG zapobiega osmozie) czy odporność na działanie UV (białe powierzchnie nie żółkną, jaskrawe kolory nie bledną z czasem).
Patrzymy jednak z nadzieją na zmiany, jakie towarzyszą rozwojowi rynku i coraz większej konkurencji nie tylko cenowej ale i jakościowej, ale również rozwojowi wiedzy producentów z branży Marine, w czym również bierzemy aktywnie udział przygotowując szkolenia czy tez wdrażając nowe produkty i technologie bezpośrednio w stoczniach naszych klientów. Im większa wiedza u producentów, tym wyższe zadowolenie klientów końcowych z produktu gotowego.
Można więc powiedzieć, że w pewien sposób wpływamy na zadowolenie użytkowników jednostek pływających na całym świecie i z tego jesteśmy naprawdę dumni, zwłaszcza że większość z nas to aktywni amatorzy sportów wodnych, zaś coroczne spotkania integracyjne spędzamy na jachtach na Mazurach.
GPJ: W jakich obszarach widzi Pan zastosowanie produktu? Jakie różnice widzi Pan pod tym względem między rynkami polskim i zagranicznymi?
M.K.: Generalnie powłoki ISO-NPG powinno stosować się wszędzie tam gdzie laminat ma styczność z wodą. Ze względów kosztowych często nie stosuje się ich tam gdzie styczność z wodą jest stosunkowo rzadka, a więc większość wewnętrznych elementy kadłubów i pokładów. W Europie Zachodniej oraz USA większość uznanych producentów z branzy takich jak grupa Hanza, Bawaria, Brunschwick, Bennetau Jaennau, X-Yacht i inni stosują surowce najwyższej jakości, dlatego że utrata marki związanej z masowymi reklamacjami jest dużo bardziej kosztowna niż potencjalne oszczędności z tańszych surowców.
GPJ: Jakie konsekwencje mogą mieć zbytnie oszczędności?
M.K.: Przykładów nie trzeba daleko szukać – chociażby awarie podzespołów uznanych producentów samochodów spowodowane stosowaniem tanich komponentów. Na efekty nie trzeba było dużo czekać – Toyota będzie musiała długo odrabiać utracony wizerunek.
W przypadku firm z branży Marine jest to trudniejsze z dwóch powodów – środowisko szczególnie odbiorców jednostek bardziej prestiżowych jest stosunkowo niewielkie, a więc marketing szeptany odgrywa tu dużą rolę i wiadomości szybko się rozprzestrzeniają. Zaś wymiana odbarwionego czy uszkodzonego pokładu niesie za sobą olbrzymie koszty, nieporównywalne z kosztami wymiany wadliwej części hamulca czy sprzęgła. W Polsce, ze względu na wciąż niższe w porównaniu do Zachodu koszty pracy uznani producenci zachodni mają wielu podwykonawców, umiejscowionych w większości na Warmii, Mazurach, Pomorzu Środkowym i Zachodnim.
W związku z umowami oraz często powiązaniami finansowymi również polscy kooperanci lub firmy będące własnością zachodnich producentów jachtów stosują nowoczesne technologie oraz sprawdzone surowce uznanych dostawców, tam nie ma kompromisów - liczy się jakość.
GPJ: Dziękuję za rozmowę.
Bartosz Rief