Nie każdy z nas zdaje sobie sprawę z tego, że włókno szklane traci swoje właściwości wraz z upływem czasu. Dodatkowo, kilka zewnętrznych czynników, takich jak wilgoć i temperatura, znacznie przyspieszają ten proces. Dlatego tak ważne jest właściwe przechowywanie oraz transport włókna szklanego.

Jak sprawdzić czy nasze włókno zachowało odpowiednie właściwości?
W celu upewnienia się czy wybrane przez nas zbrojenie spełnia stawiane przez projektanta wymagania co do wytrzymałości elementu należy przeprowadzić testy laboratoryjne. Wilgotność możemy zbadać poprzez ważenie i podgrzewanie naszego produktu w celu odparowania zawartej w nim wody. Porównanie wagi produktu przed i po odparowaniu, dostarczy nam informacji na temat ilości wody w naszej próbce. Informacje na temat zawartości wody w danym włóknie szklanym znajdziemy w karcie technicznej produktu. Nie powinna być ona większa niż 0.2% dla większości produktów.
Aby sprawdzić parametry mechaniczne naszego zbrojenia, należy wykonać próbki laminatu i poddać je próbom niszczącym. W zależności od przeznaczenia naszego elementu, może to być test na ściskanie, rozciąganie lub skręcanie.
Jednym ze sposobów radzenia sobie z problemem starzenia się włókien szklanych, może być seria preparatów firmy BYK, które w połączeniu z żywicami poliestrowymi, winyloestrowymi, epoksydowymi czy akrylowymi przywracają pierwotne właściwości włókien lub dodatkowo je wzmacniają (w przypadku nowego włókna).
Poniższy wykres przedstawia utratę właściwości mechanicznych włókien szklanych, które były wystawione na temperaturę 40 stopni Celsjusza przez okres jednego tygodnia.

Jest to utrata wartości aż o 30%.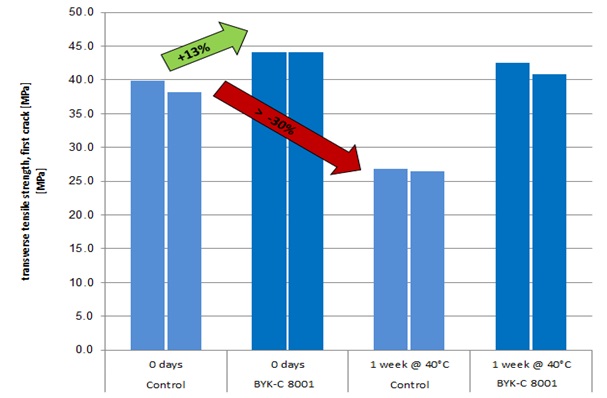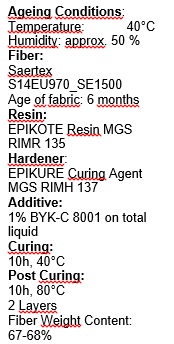 Starzenie się włókna szklanego czasami może nastąpić bardzo szybko!
BYK-Coupling agent znacząco poprawia jego właściwości mechaniczne.
Podczas transportu włókna szklanego, zwłaszcza kiedy odbywa się on drogą morską, temperatura w kontenerze często przekracza 40 stopni Celsjusza przez okres wielu tygodni. Dlatego tak ważne jest używanie żywic wysokiej jakości, które zwiększą parametry mechaniczne laminatu, jak i środków zwiększających siłę adhezji pomiędzy włóknem a żywicą.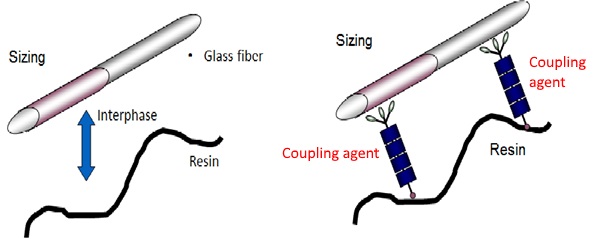 *powyższy rysunek przedstawia sposób działania produktów BYK – Coupling agent poprzez tworzenie dodatkowych wiązań między zbrojeniem a żywicą.
Testy, wykonane na wielu elementach przy zastosowaniu środków zwiększających adhezję, wykazują znaczą poprawę właściwości mechanicznych badanych elementów.
Poniżej rezultaty testu sztywności na rurach wykonanych z laminatu: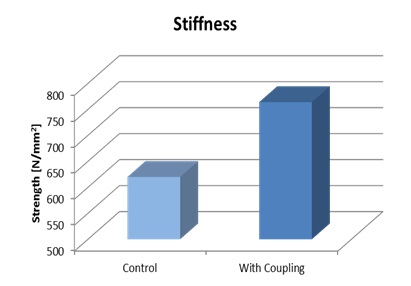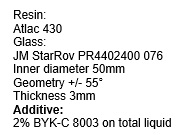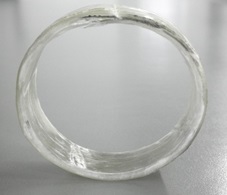 * - pierwszy słupek przedstawia wytrzymałość rury na ściskanie bez dodatku zwiększającego adhezję
- drugi słupek przedstawia wytrzymałośc rury na ściskanie po dodaniu 2% środka zwiekszającego adhezję BYK-C 8003, co pozwoliło na zwiększenie wytrzymałości badanego elementu o 24%.
Ze względu na bardzo atrakcyjne warunki cenowe, towary od producentów zamorskich cieszą się bardzo dużą popularnością i znalazły szerokie grono odbiorców. Należy jednak pamiętać, że podczas wielotygodniowego transportu zakupiony materiał może stracić swoje właściwości, dlatego zalecam używanie produktów zwiększających adhezję szczególnie tam, gdzie bardzo ważne są wysokie parametry mechaniczne naszego laminatu.
Dariusz Boba

Konsultant techniczny

kom. 605 078 871
fax 058 691 01 85
e-mail:Ten adres pocztowy jest chroniony przed spamowaniem. Aby go zobaczyć, konieczne jest włączenie w przeglądarce obsługi JavaScript.