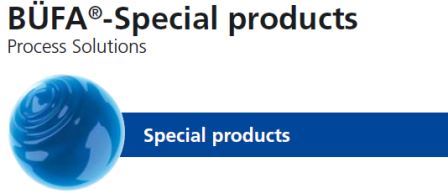 Czy warto na codzień mieć pod ręka alkohol i smalec w firmie produkujacej laminaty lub odlewy na żywicach winylo i poliestrowych ? Odpowiedź brzmi: stanowczo warto i należy mieć je przy sobie.
Wymienione wyżej nazwy to zwyczajowe określenia specjalistycznych rozdzielaczy, które funkcjonują w części firm naszej branży. Dzisiejszy artykuł jest przypomnieniem tych materiałów oraz wielu innych które produkuje BÜFA Composite Resins w Rastede oraz firma CHEMTREND którą reprezentujemy w Polsce.
Podczas szybkiej produkcji prototypów i modeli wykorzystujemy materiały jak: MDF, gips, szpachle samochodowe oraz wiele innych które dają się łatwo obrabiać i kształtować. Niestety wszystkie one mają bardzo ubogą jakość powierzchni (szorski finish, widoczne pory, dziurki, włókna), która w sposób niechciany przez nas, przykleja sią do warstw poliestru nakładanego podczas budowy form i prototypów. Jeśli nie pokryjemy tych materiałów odpowiednimi lakierami modelarskimi, z uwagi na czas lub koszt całej operacji, potrzebujemy specjalnych rozdzielaczy.
741-0054 Oldopal Release Paste: "SMALEC"
741-0054 jest pastą rozdzielającą na bazie syntetycznego wosku oraz białego alkoholu. Stosowany jest jako pierwszy rozdzielacz na porowate materiały jak gips, drewno, MDF, tworzywa sztuczne i inne, jako podkład zwiększający bezpieczeństwo odformowania, przed alkoholem poliwinylowym (PVA). Nakładamy go cienka warstwą i natychmiast polerujemy aby otrzymać własciwą jakośc powierzchni. Wyschnięta warstwa wosku jest trudna do spolerowanie: pracuj szybko.
Przy produkcji elementów o duzej powierzchni aby uałatwić proces odformowania sugerujemy nakładać smalec czyli 741-0054 co 5-6 odformowań. Nowe formy sugerujemy pokrywać 2-3 warstwami, polerowanymi kazda po każdej, aby mieć pewność że wszystkie pory na powierzchni zostały wypełnione woskiem. Dotwardzanie form po aplikacji smalcu poprawi jego penetrację w głąb mikroszczelin oraz dodatkowo wzmocni / utwardzi samą warstwę wosku.
741-0052 Oldopal Release Lacquer: "ALKOHOL"
741-0052 jest płynnym środkiem rozdzielającym na bazie alkoholu poliwinylowego, rozpuszczonego w mieszance etanolu i wody. Po utwardzeniu tworzy połyskliwą i wytrzymałą na poliestry warstwę PVA. Stosowany jest jako rozdzielacz do zywic poliestrowych, winyloestrowych oraz epoksydowych.
Alkohol PVA stosowany jest na porowate powierzchnie (najlepiej gdy są zaprawione wcześniej "smalcem") a takze na "trudne" krzywizny i powierzchnie z którymi mamy zawsze kłopot przy odformowaniu. Zwiększa nasze bezpieczeństwo podczas odformowań. Nakładamy go zazwyczaj gąbką by stworzyć cienką połyskliwą powierzchnię. Nakładana ilość to przeważnie 30 – 70 g/m2. Nakładająć pedzlem na trudnodostępne elementy musimy liczyć się z pozostawieniem smug do spolerowania na gotowym wyrobie, czyli odbicia z nierówno nałozonego alkoholu.
Sama warstewka po odformowaniu schodzi razem z wyrobem lub pozostaje częściowo na formie. Możmy ją zdejmować na sucho lub zmyć wodą w której się dobrze rozpuszcza. Jeżeli chcemy uzyskać matową powierzchnię, to należy rozpylić 741-0063 Oldopal Liquid Release Wax, na wyschnięty alkohol PVA.
741-0063 Oldopal Liquid Release Wax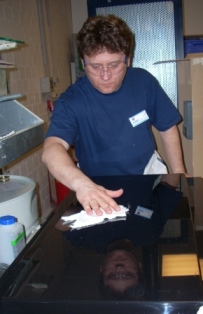 741-0063 to wosk polietylenowy w postaci płynnej na rozpuszczalnikach organicznych o niższej lepkości od smalcu czyli wosku na białym alkoholu 741-0054. Posiada podobny zakres zatosowań tzn. aplikacja na porowate powierzchnie z gipsu, MDF, drewna i szpachłówki poliestrowe nie zabezpieczone profesjonalnymi lakierami modelarskimi. Stosowany jako podkład pod alkohol PVA i nietypowych procesach produkcyjnych np. wybrane kontrformy.
022-0500 BF 500 Liquid Release Wax
022-0500 jest specjalną kompozycją wosku i rozpuszczalników oragnicznych, przeznaczoną do utrzymania odpowiedniej jakości powierzchi form poliestrowych i stalowych, które pracują w temperaturach do 120oC.
BF 500 spełnia podwójna funkcję :
uzupełnia ubytki wosków na powierzchi form
delikatnie i skutecznie usuwa pozostałości z form
BF 500 nie jest woskiem bazowym.
Do tego celu stosuj BF 700 i BF 800 BF 500 podtrzymuje błyszczącą powierzchnię poprzez uzupełnienie wyrwanych wosków oraz skutecznie usuwa pozostałości zelkotów, zywic, osadzonego polistyrenu i zlogów woskowych jakie powstają podczas odformowań i wielu cykli pracy narzędzi/form. Nie rozpuszcza pozostałosci PVA, który nalezy zmyć wodą. BF 500 nakładamy za pomoca czystych 100% bawełnianych tkanin na powierzchnie max 1,00 m2 i natychmaist polerujemy do uzyskania wysokiego połysku czystą suchą bawełnianą szmatką/ręcznikiem. (nie stosuj tkanin z włoknami syntetycznymi które zostaną rozpuszczone przez BF 500, osiądą na powierzchni formy i zniwelują efekt rozdzileczy wosków).
Nowe formy powinny być potraktowane jedynie woskami BF 700 lub BF 800 przez wiele poczatkowych odformowań by dać ciągle swieżej warstwie wosku rozdzialajacego szansę na własciwe utwardzenie i konsolidację. Stosowanie BF 500 mozna rozpocząć dopiero po zbudowaniu odpowiedniej jakosci pokrywy wosków/własciwych rozdzielaczy i konsolidacji tej warstwy.
Cechą szczególną produktu jest to że po aplikacji/wypolerowaniu forma moze natychmiast wrócic do pracy. Formy które posiadaja mocno widoczne złogi wosków lub wyraźnie osadzony polistyren można wielokrotnie potraktować BF 500 by przywrócić im stan własciwy do pracy. Pomimo tych operacji nakładania BF 500, forma może nadal szybko wrócić na produkcję bez niepotrzebnych przerw przy tradycyjnym zmywaniu wszystkich warstw depozytów wosków/polistyrenu i nakładaniu nowych warstw wosków i ich własciwym utwardzaniu co zajmuje wiele godzin.
022-0700 BF 700 Release Wax Paste: "wosk CARNAUBA"
BF 700 Release Wax Paste jest wolną od silikonu, bardzo skoncentrowaną emulsją czystego wosku Carnauba o konsystencji twardej pasty. Jest przeznaczona do przygotowywania form poliestrowych, winyloestrowych i epoksydowych. BF 700 Release Wax Paste jest używana jako podstawowy środek rozdzielczy przy produkcji elementów poliestrowych, winyloestrowych i epoksydowych w formach wykonanych z GRP.
BF 700 Release Wax Paste najlepiej jest nakładac na formę miękką szmatką. Niewielką ilość wosku nakładamy na szmatkę i kolistymi ruchami, przy niewielkim nacisku, rozprowadzamy na powierzchni formy. Takie nakładanie zapewni nam jednakową, cienką warstwę filmu rozdzielającego, bez bryłek wosku. Wosk powinno się nakładać na fragmenty powierzchni formy nie większe niż ca. 70 x 70 cm. Polerowanie wosku rozpoczynamy w momencie gdy nałożona warstwa zaczyna wysychac. Przy polerowaniu pasta nie może się rozmazywać. Nie należy też czekac zbyt długo ponieważ po znaczącym wyschnieciu pasta jest bardzo trudna do spolerowania. Czas schnięcia pasty zależy od temperatury, wilgotności powietrza i wentylacji formy. Uwaga ! Podczas pracy należy regularnie oczyszczać i wymieniać używaną szmatkę !
Przy przygotowywaniu nowych form zaleca sie bardzo staranne nakładanie wosku przed pierwszym odformowaniem. Zaleca sie nałożenie 5-7 warstw wosku i bardzo dokładne jego polerowanie do wysokiego połysku. Zapewni to nam zamknięcie wszelkich mikroporów. W temperaturze pokojowej pomiędzy kolejnymi warstwami wosku zaleca się 1-2 godzinne przerwy. Po ostatniej warstwie należy pozostawic formę w temperaturze pokojowej na 24 godziny.
Pasta robi sie bardziej miękka w podwyższonej temperaturze i dzięki temu łatwiej wnika w powierzchnie formy a warstwy wosku są bardziej odporne na działanie styrenu po wygrzewaniu całej formy. Przy pierwszych 2-3 odformowaniach OLDOPAL® Release Lacquer użyty jako dodatkowy rozdzielacz zwiększa nam bezpieczne odformowania i zapewnia "ułożenie się" formy. Później, przy regularnej pracy formy możemy stosowac co kilka odformowan warstwę BF 500 Liquid Release Wax (wosku płynnego).
022-0800 BF 800 High Temperature Release Wax
Wysokotemperaturowy wosk rozdzielajacy BF 800 (022-0800) jest wolną od silikonu, skoncentrowaną emulsją wosków syntetycznych w postaci twardzej pasty. BF 800 High Temperature Release Wax został stworzony z myślą o zastosowaniu do form podgrzewanych jak również produkcji kompozytów i form kompozytowych gdzie na formie/modelu, poprzez reakcje egzotermiczne powstają wysokie temperatury. Można go stosować do form zbudowanych z laminatu poliestrowego, winyloestrowego, epoksydu, jak również form aluminiowych czy niklowych. Stosujemy BF 800 w temperaturze do 120oC. Aplikacja podobna do opisanej dla BF 700 czyli Carnauba.
Więcej informacji na temat produktów dostępnych jest u naszych Konsultantów Technicznych, oraz na stronie internetowej http://www.baltazarkompozyty.pl i na kanale Youtube firmy Baltazar Kompozyty.
Jeśli chcesz otrzymywać powiadomienia o nowościach na naszej stronie raz w miesiącu oraz mieć wgląd do archiwum:
Jarosław Koksanowicz

Konsultant Techniczny
Menadżer Produktu - Żelkoty, Dodatki do produkcji
Biuro w Jeleniej Górze
kom. 605 078 871
fax 58 691 01 85
e-mail:Ten adres pocztowy jest chroniony przed spamowaniem. Aby go zobaczyć, konieczne jest włączenie w przeglądarce obsługi JavaScript.