Osmoza - Niszczenie kompozytu, jak mu zapobiegać?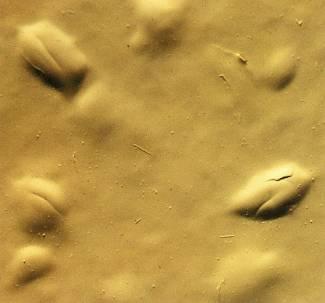 Osmoza jest zjawiskiem fizycznym polegającym na wyrównywaniu się stężeń z roztworu o niższym stężeniu substancji rozpuszczonej do roztworu o wyższym stężeniu.
W laminatach poliestrowo-szklanych znajdują się rozpuszczone substancje (takie jak na przyklad kobalt) o wysokim stężeniu. Woda z otoczenia dyfunduje przez wartwę żelkotu (najłatwiej przez mikropory i zgazowania w strukturze żelkotów) i rozcieńcza stężony roztwór. Prowadzi to do tworzenia się coraz większych zgrubień na powierzchni oraz pęcherzy.
Kiedy ciśnienie osmotyczne przekroczy właściwości elastyczności żywicy, ulega ona pęknięciu i pęcherz na powierzchni laminatu zacznie rosnąć. Wnikajaca w strukturę laminatu woda wyszukuje nałsłabszego "ogniwa" tj. niewymieszane rozpuszczalniki z utwardzaczem, zanieczyszczenia, niezwilżone włókno szklene (jakość zastosowanych silanów w podukcji włókien szklanych ma istotny wpływ na jakość ahezji włókna do żywic, im tańsze szkło tym z jego jakością różnie bywa.)
Jeżeli powstałe na powierzchni laminatu pęcherze są płaskie i duże to osmoza sięga w głąb laminatu. Jest to efekt niewłaściwego odpowietrzenia żywicy na etapie budowy laminatu. W takim laminacie pojawiają się malutkie pęcherzyki powietrza oraz mikropęknięcia zarówno w samej żywicy jak i na styku żywicy i szkła. Natomiast w przypadku powstania na powierzchni żelkotu szpiczastych, wystających pęcherzy mamy doczynienia z defektami w strukturze warstwy żelkotowej.
Szybkość osmozy zależy od wielu czynników do których zaliczamy:
• Jakości zastosowanego żelkotu.
• Grubość warstwy żelkotu
• Defekty w utwardzonym żelkocie(zgazowania, mikropory)
• Konstrukcja pierwszej warstwy
• Rodzaj zastosowanej żywicy
• Typ zbrojenia szklanego
• System utwardzania
• Temperatura utwardzania (niewłasciwa)
• Zanieczyszczeń na powierzchni żelkotu
• Nie wymieszany utwardzacz na powierzchni żelkotu
Etapy korozji laminatu

Jak zabezpieczyć laminat przed osmozą?
Przede wszystkim należy zastosować odpowiedni rodzaj żelkotu dpasowany do warunków ekspolatacji laminatu. Ważne jest zasstosowanie właściwego systemu utwardzania. Rekomendowanym utwardzaczem do żelkotow BÜFA jest bezftalanowy Curox M-312. Zapewnia on stopniowe utwardzanie żelkotu, przez co jednocześnie ułatwia jego szybkie odpowietrzenie!
Podczas nakładania warstwy żelkotowej należy pamietać aby finalna grubość warstwy żelkotu była zgodna z zaleceniami producenta(500-700 µm). Zbyt cienka warstwa żelkotu nie utwardzi się w pełni i bedzie bardzo podatna na różne defekty, w tym osmozę.
System 1: Żelkot izo-npg Laminat z żywicy ortoftalowej CSM 3x450 g/m2
System 2: Żelkot izo-npg Żywica barierowa izoftalowa CSM 1x450 g/m2 Żywica ortoftalowej CSM 2x450 g/m2
System 3: Żelkot izo-npg Żywica barierowa VE CSM 1x450 g/m2 Żywica ortoftalowa CSM 2x450 g/m2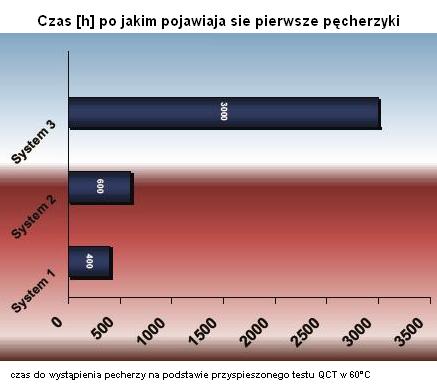 Wiecej informacji na temat żelkotów BÜFA i ich przetworstwa znajdziecie państwo w artykule Przetwarzanie żelkotów firmy BÜFA
Odporność hydrolityczną żelkotów można uszeregować następująco:
VE (Neogel) > ISO/NPG (BÜFA Marine) > ISO (BÜFA Arctic) > OPA/ISO (BÜFA Standard) > OPA/ISO (BÜFA Industry)
Bezpośrednio na warstwę żelkotu należy nałożyć warstwę barierową, która zapewni doskonałą ochronę przed osmozą oraz ograniczy "drukowanie" struktury szkła z kolejnych warstw laminatu. W naszej ofercie znajdują sie dwa systemy żywic barierowych produkcji DSM Composiete Resin:
• Bariera natryskowa Atlac E-coat 65 [kliknij aby uzyskać więcej informacji]
• Bariery do aplikacji recznej. W tej grupie produktowej możemy zapropnować wysokiej jakości żywice izoftalowe (np. Synolite 0288) oraz winyloestrowe (np. Atlac 580 ACT lub Atlac E-nova 6325).
Produkty te charkteryzują się:
• bardzo niskim skurczem polimeryzacyjnym,
• doskonałym utwardzaniem w cienkich warstwach,
• niską absorbcją wody,
• wysokimi właściwościami mechancznymi,
• wysoka chemoodpornością,
• brakiem pienienia po dodaniu standardowego MEKP (np.Curox M-302).
Podczas nakładania żywicy barierowej należy zwrócić szczególnie uwagę na ścisłe jej przyleganie do warstwy żelkotu, tak by "sucha" mata nie przylegała do zelkotu. Jako zbrojenie zalecamy zastosowanie maty proszkowej o gramaturze 150 g/m2 i jak najniższej gęstości włókna (15Tex), lub welonu szklanego o niskiej gęstości powierzchniowej (30-80g/m2).
Żywice Atlac doskonale utwardzają się w bardzo cienkich warstwach. Po zalaminowaniu warstwy barierowej i jej wstępnym utwardzeniu (minimum 4godzin w temperaturze min. 20oC) można przystąpić do dalszego budowania własiwej konstrukcji laminatu. Należy dodatkowo pamiętać o właściwych parametrach przetwórczych tj:
• Zalecana temperatura otoczenia, żelkotu i formy pomiedzy 18 a 23°C (Najlepiej gdy temperatura formy jest o 2-3ºC wyższa od temperatury żelkotu.
• Wilgotność wzgledna poniżej 80% - Zbyt wysokie stężenie pary wodnej na stanowisku roboczym prowadzi do niedotwardzenia nawet w podwyższonych temperaturach. Nie wolno dopuścić do wystąpienia zjawiska kondensacji pary wodnej.
• Nie dodawać do żelkotów rozpuszczalników typu acetonu, styrenu ani przyspieszaczy.
• Utwardzanie przy użyciu standardowego MEKP (np Curox M-312).
• Zapewnić dobrą wentylacje formy - opary styrenu, ze względu na wyższy ciężar wlaściwy mają tendencję do zalegania w dolnych partiach wstrzymując polimeryzację – dobrze jest przechylić formę aby styren mógł swobodnie z niej "wypływać".
• Każdy hobok żelkotu po otwarciu należy dokładnie aczkolwiek powoli wymieszać. Aby uniknąć napowietrzaniu żelkotu i zniszczeniu tiksotropii nie należy stosować wysokoobrotowego sprzętu mieszającego.
• Bardzo ważne jest dokładne wymieszanie żelkotu/żywicy z nadtlenkiem.
Jeśli chcesz otrzymywać powiadomienia o nowościach na naszej stronie raz w miesiącu oraz mieć wgląd do archiwum:
Marcin Faron

Przedstawiciel handlowy
Doradca techniczny
Biuro w Krakowie
kom. 609 115 122
fax 058 691 01 85
e-mail:Ten adres pocztowy jest chroniony przed spamowaniem. Aby go zobaczyć, konieczne jest włączenie w przeglądarce obsługi JavaScript.