Pasty polerskie BÜFA Gelcoat Plus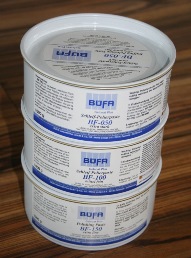 Polerowanie to obróbka wykańczająca, która ma na celu uzyskanie żądanej gładkości i połysku powierzchni przedmiotu polerowanego wykonanego najczęściej z metalu, szkła, tworzywa sztucznego. Pasty ścierne/polerskie są to najczęściej środki o różnych uziarnieniach, stosowane przy likwidowaniu rys/zarysowań o niewielkiej głębokości.
Większość past polerskich ogólnodostępnych na rynku są to pasty do polerowania lakierów samochodowych, których twardość jest dużo niższa od twardości powłok żelkotowych, a w szczególności żelkotów narzędziowych. Część z tych past zawiera również dodatki silikonów, które mogą być trudne do usunięcia przy pomocy nawet specjalistycznych zmywaczy do form, więc może być problematyczne również nałożenie warstw rozdzielczych na spolerowane formy.
Rodzaje past ścierno/polerskich:
grube - do usuwania śladów obróbki narzędziami skrawającymi (BF-50)
średnie - stosowane np. przy docieraniu (BF-100)
drobne - stosowane do polerowania wykańczającego (BF-150).
Pasty polerskie BÜFA (BF-50, BF-100, BF-150) to dokładnie dobrane do żelkotów kombinacje wysokoskutecznych cząstek ściernych, zawieszonych w paście. Są to pasty półpłynne, miękkie. Nie zawierają krzemu, amoniaku, silikonów ani wosków. Pasty te (w zależności od potrzeb) można rozcieńczać wodą.
Pasty mogą być stosowane do polerowania ręcznego i maszynowego. Po zakończeniu polerki pozostałości pasty najlepiej zmyć ciepłą wodą z dodatkiem detergentu (np. płynu do mycia naczyń). Najkorzystniej jest po wypolerowaniu, umyciu i wysuszeniu elementu przetrzeć go czystą szmatką bawełnianą. Czynność ta usunie minimalne pozostałości pasty polerskiej i jednocześnie bardziej nabłyszczy powierzchnię elementu.
BF 50 Polishing Paste została opracowana do wstępnego polerowania rys i zadrapań na formach GRP i produktach wykonanych z żywic poliestrowych, winyloestrowych lub epoksydowych. Nadaje się do szlifowania na mokro lub na sucho. Stosuje się ją zazwyczaj po papierze ściernym P-800. W przypadku wyrobów w jasnych kolorach (np. białych) polerowanie pastą BF 50 w większości przypadków nie wymaga już dopolerowywania cieńszymi gradacjami pasty.
BF 100 Polishing Paste stosuje się zazwyczaj po zastosowaniu pasty BF 50 lub papierze wodnym P-1000, P-1200. BF 100 likwiduje zarysowania i wady form oraz gotowych wyrobów; poleruje do wysokiego połysku również oksydowane lakiery.
BF 150 Polishing Paste extra fine została stworzona do ostatecznego polerowania na wysoki połysk podczas naprawy, konserwacji i przygotowania form GRP i produktów, wykonanych z żywic poliestrowych, winyloestrowych lub epoksydowych. Optymalny połysk powierzchni form i produktów uzyskuje się po wstępnym zastosowaniu BF 50 oraz BF100.
Zawsze należy pamiętać aby zmieniać lub dokładnie myć narzędzia oraz polerowaną powierzchnię przy zmianach gradacji pasty.
Stosowanie:
Pastę nakłada się czystą, miękką ściereczką na powierzchnię ok. 50 x 50 cm i poleruje przy umiarkowanym docisku aż do uzyskania równomiernej, połyskliwej powierzchni. Jeżeli do polerowania używa się maszyny polerskiej, maksymalna ustawiona prędkość nie powinna przekraczać 2100 obrotów.
Aby uzyskać bardzo wysoki połysk należy zwiększać nacisk przy polerowaniu, wraz z wysychaniem pasty. Przy większych elementach można nałożyć cienką i równą warstwę pasty na cały element a podczas polerowania powierzchnię spryskiwać wodą z rozpylacza ogrodowego.
Należy uważać aby nie nałożyć zbyt grubej ilości pasty na polerowany element , gdyż będzie ona wysychać i sklejać włosie z tarczy polerskiej (które może w skrajnych przypadkach zacząć rysować polerowana powierzchnię!!!!).
Najlepsze efekty uzyskuje się przy zastosowaniu naturalnych lub syntetycznych tarcz polerskich z długim włosiem. Nie powinno się stosować krążków polerskich wykonanych z gąbki, gdyż są zbyt miękkie do polerowania powłok żelkotowych.
Aby uzyskać więcej informacji na tematy opisywane w artykule, prosimy o kontakt z autorem artykułu.
Jeśli chcesz otrzymywać powiadomienia o nowościach na naszej stronie raz w miesiącu oraz mieć wgląd do archiwum:
Pawel Tryzna


Przedstawiciel handlowy
Doradca techniczny
Koordynator do spraw wdrożeń
Biuro w Giżycku
kom. 691 999 599
fax 58 691 01 85
e-mail:Ten adres pocztowy jest chroniony przed spamowaniem. Aby go zobaczyć, konieczne jest włączenie w przeglądarce obsługi JavaScript.