Po opracowaniu i wprowadzeniu żelkotów oraz żywic bezstyrenowych przyszedł czas na zastąpienie octanu kobaltu bardziej "przyjazną" substancją. Nawet w tych niepewnych czasach należy myśleć o przyszłości i przygotować się do jej nadejścia. Musimy poszukiwać rozwiązań poprawiających funkcjonalność produktów oraz zmniejszać wpływ naszych działań na środowisko.
W ostatnich latach przemysł kompozytowy został poddany regulacjom REACH (rejestracja substancji chemicznych). Zwiększona została uwaga na potencjalne, niekorzystne działanie soli kobaltu na ludzkie zdrowie. Stosowane obecnie przyspieszacze stosowane do utwardzania żywic poliestrowych oraz winyloestrowych oparte są w większości właśnie na octanie kobaltu. Obecnie brane jest pod uwagę przeklasyfikowanie tej substancji, po dodaniu w 2011 roku przez ECHA (Europejska Agencja Chemikaliów) chlorku kobaltu i dwuoctanu kobaltu do listy substancji budzących szczególnie duże obawy ( SVHC). Lista ta jest pierwszym krokiem w procedurze ograniczenia stosowania chemikaliów.
Celem DSM - największego producenta żywic poliestrowych i winyloestrowych jest bycie liderem na rynku kompozytów nie tylko w obszarze produkcji, ale również we wprowadzaniu "zielonych", mniej szkodliwych rozwiązań. Dbałość o klientów i własnych pracowników poprzez eliminację niebezpiecznych związków ma ogromne znaczenie, dlatego właśnie DSM rozpoczął prace nad alternatywami dla przyspieszaczy kobaltowych już na początku 2000 roku i w tej chwili może pochwalić się blisko 20 patentami na tym polu.
W 2012 roku podczas targów kompozytowych JEC w Paryżu zaprezentowano nowe technologie utwardzania, które nie wymagają użycie kobaltu. W zależności od wymagań procesowych i rodzaju produktu końcowego zwykle wybieramy żywice przyspieszone ("gotowe do użycia") lub jeśli chcemy mieć większą możliwość sterowania procesem utwardzania wybieramy żywicę nieprzyspieszoną i dodajemy kobalt sami. Obecnie mamy już dostępne alternatywne systemy utwardzające wolne od kobaltu zarówno dla użytkowników żywic przyspieszonych jak i preferujących dodawanie przyspieszacza samodzielnie.
W ofercie DSM znajdują się wstępnie przyspieszone żywice
| | |
| --- | --- |
| Atlac 580 A 10 | Żywica winyloestrowa do laminowania ręcznego, natrysku oraz nawijania |
| Atlac 580 A 20 | Żywica winyloestrowa do infuzji |
| Synolite 7877 P-1 | Nienasycona żywica poliestrowa do laminowania ręcznego, natrysku oraz nawijania |
Wyżej wymienione żywice to produkty BluCure™
Dodatkowo wiele nieprzyspieszonych żywic produkowanych przez DSM zostało przystosowanych do użycia w połączeniu z przyspieszaczami bezkobaltowymi.
Produkty BluCure™ oraz znak BluCure™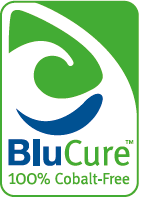 BluCure™ jest synonimem najnowocześniejszych technologii związanych z bezkobaltowym utwardzaniem żywic poliestrowych. Opracowana przez liderów branży w zakresie innowacji technologia ta jest dostępna dla wszystkich producentów żywic. Znak BluCure™ to gwarancja, że produkt nim oznaczony jest w 100% wolny od kobaltu. Technologia BluCure™ otrzymała uznanie niemieckiego zrzeszenia producentów branży kompozytowej AVK.
Podczas konferencji w Düsseldorfie technologia bezkobaltowego utwardzania została uznana jako produkt prawdziwie twarły i w kategorii "Innowacyjny Produkt" zdobyła 3 miejsce, była jedyną technologią utwardzania jaka zdobyła nagrodę. Sztwierdzono, że technologia ta oferuje obecnie wartość dodaną i daje mozliwość odejścia od stosowania kobaltu, a wyprzedzając przepisy legislacyjne z pewnością w przyszłości odegra ważną rolę.
Jeśli są Państwo zainteresowani technologią BluCure™ to prosimy o kontakt z naszymi konsultantami technicznymi.
Jeśli chcesz otrzymywać powiadomienia o nowościach na naszej stronie raz w miesiącu oraz mieć wgląd do archiwum:
Rafał Sielicki

Konsultant techniczny
Menadżer Produktu - Systemy niepalne, Akcesoria Technik Próżniowych
Biuro w Gdańsku
kom. 607 481 591
fax 058 691 01 85
e-mail:

Ten adres pocztowy jest chroniony przed spamowaniem. Aby go zobaczyć, konieczne jest włączenie w przeglądarce obsługi JavaScript.