Do zajścia prawidłowego procesu koopolimeryzacji żywic poliestrowych niezbędny jest nadtlenek metylo-etylo-ketonu popularnie zwany utwardzaczem lub inicjatorem. Na rynku występuje bogata oferta tych produktów, lecz czy wszystkie są porównywalnej jakości i mogą być przez nas stosowane?
Aby odpowiedzieć na to pytanie musimy w pierwszym kroku dowiedzieć się czym jest dokładnie utwardzacz.
Standardowy inicjator MEKP to mieszanina poniższych substancji
Monomer nadtlenku metylo-etylo-ketonu
Dimer nadtlenku metylo-etylo-ketonu
Nadtlenek wodoru
Trymer nadtlenku metylo-etylo-ketonu
Ftalany
Inne plastyfikatory
Metylo-etylo-keton
Sole
Glikole
Woda
Inne dodatki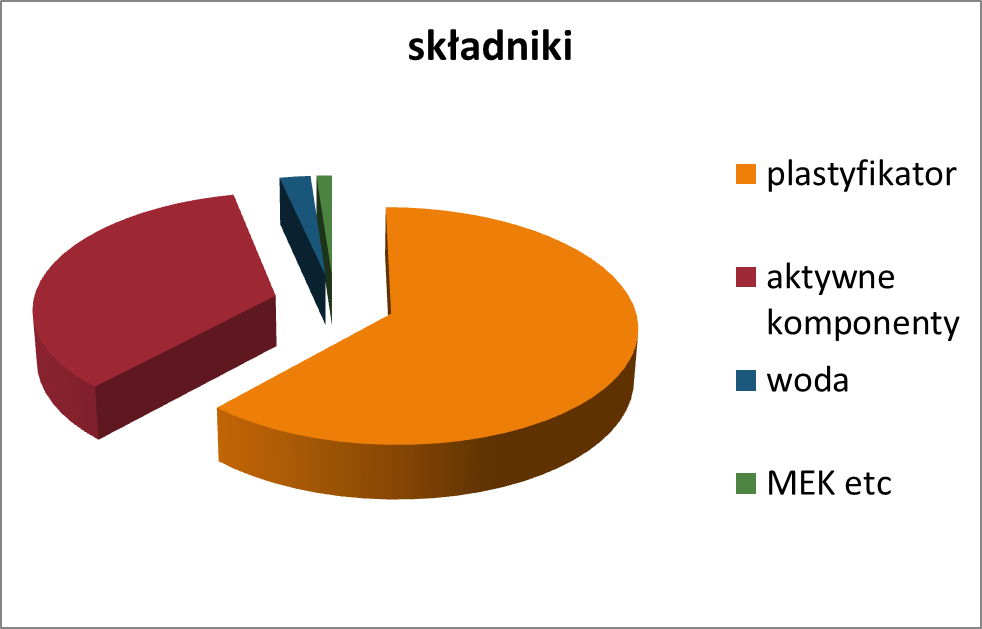 Przyjrzyjmy się bliżej wymienionym składnikom.
Aktywne komponenty
Aktywne komponenty to właściwy balans następujących składników:
Nadtlenek wodoru – wpływa wyłącznie na czas żelowania
Monomer MEKP (MEKP I ) dokańcza proces żelowania oraz rozpoczyna utwardzanie. Ma ogromny wpływ na przebieg pierwszej fazy utwardzania
Dimer MEKP (MEKP II+III ) finalizuje utwardzanie. Absolutnie niezbędny do właściwego utwardzenia żywic izoftalowych i winyloestrowych
Suma trzech powyższych składników nie może przekroczyć 9,9% aktywnego tlenu, co odpowiada około 35% całkowitej zawartości aktywnych składników w nadtlenku. Ograniczenie to ma związek z przepisami dotyczącymi transportu i magazynowania nadtlenków organicznych.

Plastyfikatory
dobrej jakości plastyfikator charakteryzuje się wysokim punktem zapłonu i temperaturą wrzenia, łatwo rozpuszczalny w styrenie i najlepiej "niesklasyfikowany"
TXIB (Diizomaślan 2,2,4-trimetylo-1,3-pentanodiolu) i DMP( ftalan dimetylu) posiadają powyższe cechy dlatego są popularnymi plastifikatorami
niektóre plasyfikatory nie mogą być użyte w przypadku produktów przeznaczonych do kontaktu z żywnością i/lub wodą pitną
Pewne plastyfikatory mogą powodować zmianę koloru żelkotu
Otrzymywanie MEKP.
MEK + H2O2 + kwas →H2O2 + monomer MEKP + dimer MEKP + trimer MEKP + zasada do zatrzymania reakcji
Kwas + zasada → ↓sól + woda
sól jest usuwana
Uwaga: jeśli w procesie produkcyjnym sól nie zostanie dokładnie usunięta może się ona osadzać na filtrze utwardzacza w maszynie i powodować zbyt małe dozowanie inicjatora a co za tym idzie niedotwardzenie laminatu/żelkotu.
Woda = problem.
produkt uboczny w procesie produkcyjnym utwardzaczy
w ilości powyżej 3% może powodować gazowanie żelkotów
w ilości powyżej 10% wpływa na właściwości mechaniczne laminatu
duża zawartość wody wpływa na charakterystykę żelowania i utwardzania
Glikole
głównie stosuje się je aby "ukryć" wysoką zawartość wody
w ilości powyżej 6% zwiększają lepkość żelkotów co prowadzi do porowatości i trudności w prawidłowym natrysku żelkotu
wysoka zawartość glikolu w kontakcie z wodą może prowadzić do osmozy
Sól
produkt uboczny w procesie produkcyjnym utwardzaczy, chlorki, siarczany, fosforany
możliwe tworzenie się kryształów co może powodować zatykanie filtrów i dysz w urządzeniu
może powodować zgazowania
nigdy nie należy mieszać utwardzaczy różnych producentów!!!
Metylo-Etylo-Keton
pozostałość po procesie produkcyjnym
obniża punkt zapłonu nadtlenku
w ilości powyżej 3% wpływa negatywnie na utwardzanie ( dłuższe czas żelowania i utwardzania)
Wpływ nadtlenku wodoru H2O2 na charakterystykę utwardzacza.
Im większa zawartość H2O2 tym krótszy czas żelowania
Większa zawartość H2O2 powoduje szybszy wzrost lepkości
Im większa zawartość H2O2 tym większa szansa na problemy z porowatością
Mimo to pewna ilośc H2O2 jest niezbędna do rozpoczęcia reakcji, gdy pracujemy w niskiej temperaturze

Znając podstawowe informacje na temat danego utwardzacza tj. zawartość wody oraz nadtlenku wodoru jesteśmy w stanie sami określić jego jakość oraz przeznaczenie.
Na przykład zaprezentowany w powyższej tabeli Curox M-303 mając średnią zawartość wody oraz H2O2 będzie nadawał się do większości aplikacji (żywice oraz żelkoty) a Curox M-503 ze względu na dużą zawartość wody oraz nadtlenku wodoru nie powiniem być stosowany do utwardzania żelkotów oraz wszędzie tam, gdzie wymagana jest odporność chemiczna.
Podsumowując: nadtlenek pomimo swojej małej proporcji jaka jest dodawana do żywicy czy żelkotu może być odpowiedzialny za występowanie wielu istotnych problemów podczas przetwarzania poliestrów. Zwykle w takich sytuacjach szukamy winy w samym żelkocie czy żywicy, tymczasem dobór odpowiedniego nadtlenku może wyeliminować pojawianie się wad przetwórczych takich jak zgazowania, porowatość, osmoza, itp.
Jeśli chcesz otrzymywać powiadomienia o nowościach na naszej stronie raz w miesiącu oraz mieć wgląd do archiwum:
Rafał Sielicki

Przedstawiciel handlowy
Doradca techniczny
Biuro w Gdańsku
kom. 607 481 591
fax 058 691 01 85
e-mail:

Ten adres pocztowy jest chroniony przed spamowaniem. Aby go zobaczyć, konieczne jest włączenie w przeglądarce obsługi JavaScript.