Do czego służy pasta klejąca? Cz. 1 Rodzaje past i połączeń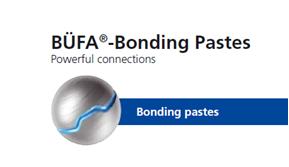 Pasty klejące - rodzaje.
Pasty klejące to substancje niemetaliczne, które są wykorzystywane do klejenia ze sobą elementów kompozytowych na bazie poliestru, ale również winyloestru i epoksydu. Klejenie następuje dzięki siłom przylegania powierzchni (adhezja) i wewnętrznej sile spójności (kohezja), powodując tworzenie się połączeń chemicznych i fizycznych porównywalne z połączeniem spawanym lub zaciskanym.
Zalety stosowanie past klejących:
Wiązania past klejących powodują równomierne rozłożenie naprężeń na całej powierzchni połączenia

Można kleić ze sobą zarówno takie same produkty (np. elementy z laminatów poliestrowych) jak również różne produkty – laminat poliestrowy z drewnem lub metalem, laminat poliestrowy z winyloestrowym czy epoksydowym

Połączenie pasta klejącą obniża wagę produktu końcowego w stosunku do innych połączeń np. nitowania czy połączeń śruba/wkręt

Istnieje możliwość stosowania kombinacji klejenia pastą klejącą /nitowanie/połączenie śruba-wkręt Wady stosowania past klejących:

Ograniczone możliwości naprawy

Ograniczona odporność termiczna połączenia (limitowana HDT żywicy na bazie której zbudowana jest pasta)

Brak możliwości kontroli jakości połączenia (jest w większości przypadków niewidoczne)

Wpływ na jakość połączenia przez warunki zewnętrzne z jakimi się styka (starzenie, utlenianie)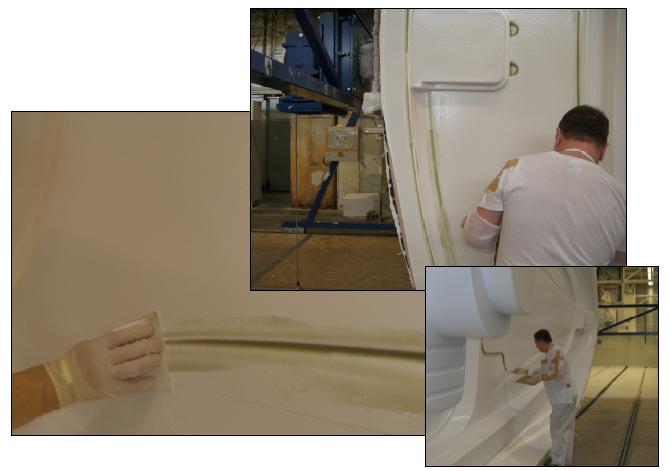 Pasty klejące można zastosować wszędzie tam, gdzie:
Powstaje konieczność wypełnienia szczelin między połączeniami elementów z laminatów

Można zastąpić procesy dodatkowe np. dolaminowanie, wykończenie

Wymagane jest wsparcie procesu produkcji np. doklejenie, wyrównanie powierzchni, zaokrąglenie krawędzi

Wymagane jest połączenie odporne na wodę i chemię

Oczekiwana jest optymalna jakość powierzchni za pomocą systemów niskoskórczowych

Wymagane jest zredukowanie wagi (kleje o niskiej gęstości), wibracji i naprężeń (kleje elastyczne), hałasu (szczelność połączenia)

Wymagane jest wiązanie różnych materiałów ze sobą przy zapewnieniu transmisji naprężeń i sił
Jak silne może być połączenie pasta klejącą? Poniżej znajduje się tabela podająca oddziałujące siły (12N/mm2 jest normą wg. Germanisher Lloyd dla kleju konstrukcyjnego) dla danej powierzchni klejenia. Połączenie spełniające normę o powierzchni 5,5 na 8,5 cm może przenieść obciążenie statyczne ponad 5,5 tony.

Od czego zależy jakość połączenia w przypadku użycia past klejących (oczywiście od jakości samego kleju jaka gwarantuje producent)? Przede wszystkim od:
Warunków w jakich zachodzi proces klejenia (temperatura, wilgotność)

Zastosowanego systemu utwardzania (dozowania odpowiedniej dawki utwardzacza o parametrach utwardzania dobranych do procesu i typu kleju)

Konstrukcji połączenia, wagi i rozmiarów elementów jakie są łączone

Jakości powierzchni i jej przygotowania

Typu łączonych elementów (laminat , aluminium, stal, drewno) oraz przystosowanego do ich wiązania kleju

Odpowiedniej aplikacji pasty klejącej, na którą składa się sposób nałożenia, reaktywności pasty oraz grubość nakładanego kleju
Aplikacja past klejących
Podstawowym problemem jest dobór odpowiedniej pasty klejącej do stosowanej aplikacji oraz materiałów, jakie chcemy ze sobą skleić oraz wymaganych parametrów wytrzymałościowych połączenia. Tabela poniżej przedstawia zestawienie produktów Bufa w zależności od wymagań dotyczących zadań, jakie ma spełniać połączenie.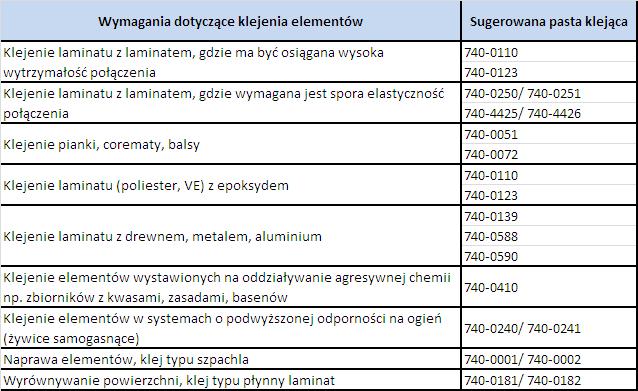 Wybór pasty uzależniamy od potrzeb dla konkretnego łączenia, bardzo istotne przy wyborze pasty jest również wsparcie się informacjami z karty technicznej oraz osoby mającej odpowiednią wiedzę techniczną dotyczącą produktu, najlepiej, jeśli jest to wsparcie techniczne dostawcy kleju. Kolejna istotna informacja to sprawdzenie, jaką grubość będzie miało nasze połączenie – zasada podstawowa to min. 1 mm, natomiast maksymalna grubość połączenia limitowana jest właściwościami kleju, które możemy sprawdzić w karcie technicznej produktu. Dla prawidłowego utwardzenia się kleju konieczne jest zastosowanie prawidłowego nadtlenku (kleje posiadają różną reaktywność), w karcie technicznej zazwyczaj podana jest sugerowana ilość utwardzacza oraz jego typ.
Typy łączonych elementów
Najczęściej wykorzystuje się poliestrowe pasty klejące do łączenia elementów zbudowanych z laminatów poliestrowy szklanych, natomiast w zależności od typu istnieją pasty klejące pozwalające na łączenie laminatów poliestrowych z:
Termoplastami typu PMMA oraz PVC, natomiast nie nadają się do klejenia PP i PE

Laminatami opartymi na żywicach winyloestrowych

Laminatami opartymi na żywicach epoksydowych

Metalami typu aluminium i stal, należy natomiast uważać na substraty typu stal nierdzewna, ocynk, chrom – tutaj zastosowanie pasty klejącej w większości przypadków nie sprawdzi się

Drewnem, sklejką drewnianą
Przygotowanie powierzchni
Do przygotowania powierzchni zalicza się następujące działania:
Czyszczenie, odtłuszczanie, wyrównywanie mechaniczne

Fizyczna, chemiczna i mechaniczna obróbka wstępna powierzchni

Zastosowanie odpowiednich primerów i promotorów w celu zwiększenia adhezji
Podstawowa zasady przygotowania powierzchni to zapewnienie powierzchni czystej, suchej, wolnej od pyłu i kurzu oraz tłuszczu, które mogą spowodować znaczne osłabienie wiązania. W przypadku klejenia laminatu bardzo ważne jest, aby powierzchnia klejona posiadała odpowiednią zawartość szkła – wówczas laminat w tym miejscu będzie mocniejszy. Kolejna sprawa to zapewnienie odpowiedniego czasu utwardzenia w odpowiednich warunkach oraz delikatne przeszlifowanie i odtłuszczenie powierzchni rozpuszczalnikiem.
W przypadku drewna oprócz odtłuszczenia powierzchni, przeszlifowania i powtórnego odtłuszczenia ważne jest zastosowanie primera np. 742-0074, który poprawia adhezję kleju. Klejenie metalu podobnie jak drewna powinno się odbyć po odtłuszczeniu, przeszlifowaniu i ponownym odtłuszczeniu powierzchni rozpuszczalnikiem (np. acetonem), a następnie zastosowaniu specjalnego primera do metalu np. 742-0079. W przypadku klejenia PVC odtłuszczamy i szlifujemy lekko powierzchnię, ale nie odtłuszczamy jej ponownie, aby pozostawić powierzchnię otwartą.
Jeśli chcesz otrzymywać powiadomienia o nowościach na naszej stronie raz w miesiącu oraz mieć wgląd do archiwum:
Sebastian Kosicki


Przedstawiciel handlowy
Doradca techniczny

Biuro w Gorzowie Wlkp.
kom. 605 041 771
fax 58 691 01 85
e-mail:Ten adres pocztowy jest chroniony przed spamowaniem. Aby go zobaczyć, konieczne jest włączenie w przeglądarce obsługi JavaScript.