Synolite i Atlac rodzina żywic do infuzji
Branża Marine zmienia się. Sztuka budowy jachtów ciągle się uprzemysławia a w procesie projektowania i produkcji zauważamy coraz bardziej naukowe podejście. Infuzja w procesie zamkniętych form staje się coraz bardziej popularna - koncentruje się na osiągach, zwiększonej produktywności oraz daje korzyści finansowe i zmniejsza negatywny wpływ na środowisko naturalne. DSM jako czołowy producent żywic poliestrowych bazując na swoim know-how i doświadczeniu opracował gamę doskonałej jakości żywic dedykowanych do procesu infuzji podciśnieniowej.
Zalety infuzji
Poprawnie wykonane laminaty w infuzji podciśnieniowej charakteryzują się wysoką jakością, stabilnością wymiaru, dużą zawartością zbrojenia, a także mamy mniejsze koszty robocizny oraz mniej odpadów materiałowych. Dzięki infuzji może również zostać zredukowana całkowita waga laminatu. Stosowanie tej techniki, w szczególności w połączeniu z użyciem wysokiej jakości żywic i zbrojeń, daje lżejszą, mocniejszą oraz tańszą strukurę laminatu. Jedną z najważniejszych cech tego procesu jest obniżenie emisji lotnych związków organicznych oraz styrenu co ma pozytywny wpływ na środowisko pracy. Fakt, że powyższe korzyści mogą wywodzić się z procesu, który wymaga minimalnego nakładu inwestycyjnego jest niewątpliwie dużym bodźcem do zmiany procesu produkcyjnego.
Dobór żywicy
Wytypowanie właściwej żywicy ma ogromny wpływ na finalne właściwości laminatu oraz na pomyślny przebieg procesu infuzji. DSM stworzył szereg żywic zdolnych do osiągnięcia wysokich właściwości mechanicznych oraz odporności na wodę przy równoczesnych optymalnych właściwościach przetwórczych w procesie infuzji. W celu zaspokojenia większości wymagań produkcyjnych do wyboru mamy żywice winyloestrowe, DCPD oraz ortoftalowe.
Infuzja a środowisko
Kolejnym argumentem przemawiającym za stosowaniem infuzji jest fakt, że ustawodawstwo Unii Europejskiej dąży do zmniejszania limitów emisji styrenu w zakładach pracy. Metoda tradycyjnego laminowania ręcznego charakteryzuje się wysoką emisja styrenu co wymusza na przetwórcach instalowanie wydajnych, a co się z tym wiąże kosztownych wentylacji i niejednokrotnie stosowane muszą być również specjalne filtry powietrza. Wentylacja hali przystosowanej pod proces infuzji wymaga innej, mniej kosztownej instalacji. Sam proces bardzo mocno zmniejsza emisję styrenu zarówno w fazie aplikacji (wtrysku żywicy) jak i podczas utwardzania się struktury laminatu.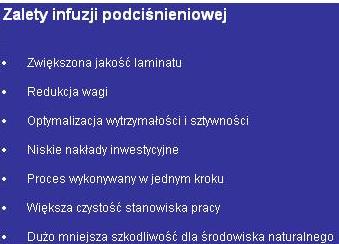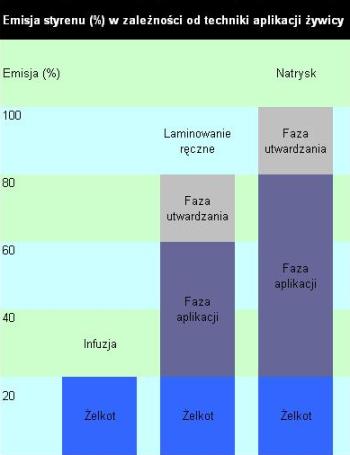 Atlac oraz Synolite – żywice do infuzji dla branży Marine
Właściwy przebieg oraz efekt końcowy procesu infuzji jest możliwy tylko wtedy, gdy zastosowana żywica ma optymalne parametry dla tego procesu. DSM opracował serię żywic winyloestrowych, DCPD oraz ortoftalowych, które są w stanie sprostać większości wymogów stawianych infuzji w branży Marine.
Żywice winyloestrowe Atlac
Są to najwyższej jakości żywice styrenowe. Raceptura tych żywic zawiera żywice epoksydowe, które słyną ze swych wysokich parametrów wytrzymałościowych oraz odporności na osmozę. W przypadku Atlaca 580 AC 200 użyto bazy uretanowej, zwiększając tym samym adhezję do włókien szklanych i właściwości mechaniczne laminatu. Ta klasa żywic czyni laminat sztywnym i wytrzymałym (doskonałe połączenie HDT, wydłużenia przy zerwaniu oraz modułu wytrzymałościowego), może on wytrzymywać duże naprężenia mechaniczne. Ze względu na bardzo dobre właściwości mechaniczne i kompatybilność żywice te są również stosowane w połączeniu z tkaninami aramidowymi do budowy wysokowytrzymałościowych kompozytów.
Atlac 580 AC 200 jest żywicą winyloestrowo- uretanową mającą doskonałą odporność na osmozę, wysokie paramerty wytrzymałościowe i temperaturowe. Jest przyspieszona i ma niską lepkość co czyni ją odpowiednią do procesu infuzji. Charakteryzuje się dobrą zwilżalnością włókna szklanego, niskim szczytem temperaturowym podczas utwardzania oraz małym skórczem.
Atlac E-Nova MA6215 jest żywicą epoksy – winyloestrową o bardzo niskiej lepkości. Przeznaczona do procesu infuzji, jest przyspieszona, posiada doskonałą przesycalność włókna szklanego oraz bardzo dobre właściwości odpowietrzające.
Żywice DCPD z serii Synolite
DCPD czyli Dicyklopentadien jest podstawową bazą tej żywicy. Żywice DCPD oferują dobre połączenie właściwości fizycznych oraz ceny. Charakteryzują się niską lepkością oraz zawartością styrenu przy jednoczesnym bardzo dobrym zwilżaniem włókna szklanego. Właściwości mechaniczne i odporność na osmozę są na porównywalnym poziomie z żywicami ortoftalowymi – używanymi w branży Marine od dawien dawna. Żywice te szybko i łatwo przesączają zbrojenia szklane, co skutkuje szybszym procesem produkcyjnym oraz większą zawartością szkła w laminacie. Dodatkowo stosunkowo mała zawartość substancji lotnych redukuje skórcz i tym samym poprawia kosmetykę wyrobu ( zmniejsza drukowanie maty na powierzchni żelkotu ).
Synolite 1967 N-1 – jest uniwersalną żywicą DCPD przeznaczoną do infuzji. Jest nieprzyspieszona, nisko lepka, bardzo dobrze przesyca włókno szklane i posiada niski skórcz. Żywica oferuje możliwość doboru czasu żelowania do wymogów konkretnego procesu.
Synolite 1967 G-3 – jest średnio lepką, przyspieszoną żywicą o dobrych właściwościach zwilżania włókna szklanego. Przeznaczona głównie do produkcji wyrobów o dużych gabarytach, posiada długi "czas otwarcia", dobrze się utwardza i ma niski skórcz.
Synolite 8488 G-2 – jest żywicą o bardzo niskiej lepkości i bardzo dobrej przesycalności. Jest przyspieszona, ma niski pik egzotermiczny i dobrze się utwardza.
Żywice ortoftalowe Synolite
Bazujące w głównej mierze na kwasie ortoftalowym żywice te to konie pociągowe branży kompozytów poliestrowych. Żywice ortoftalowe oferują dobre właściwości mechaniczne oraz przeciętną odporność na osmozę. Przy budowie jachtów są zwykle stosowane "za" dobrej jakości żelkotem i tie coatem jako rozwiązanie obniżające koszty gotowego wyrobu.
Synolite 2503 G-6 – jest przyspieszoną żywicą ortoftalową, dobrze zwilża włókno szklane i może być użyta do produkcji zarówno cienkich jak i grubych laminatów.
Dokonując właściwego doboru żywicy musimy wziąć pod uwagę:
• Grubość laminatu oraz jego wytwarzanie
• Wydajność produkcji
• Właściwości mechaniczne po utwardzeniu
• Wymogi odporności na osmozę
• Aspekty ochrony środowiska
Gama żywic do infuzji produkcji DSM obejmuje produkty opracowane dla osiągnięcia optymalnych właściwości mechanicznych, polepszenia jakości wyrobu, maksymalnej wydajności produkcji, minimalnej egzotermii i dobrego stosunku jakości do ceny.
Kryteria doboru żywicy
DSM opracował serię żywic w celu osiągnięcia wysokich paramatrów mechanicznych i odporności na osmozę a także ułatwienia i zoptymalizowania procesu infuzji. Szereg zawierający żywice winyloestrowe, DCPD oraz ortoftalowe jest w stanie pokryć większość wymagań produkcyjnych i jakościowych. Poniższa tabela zawiera podstawowe dane sześciu wytypowanych żywic do infuzji, potwierdzające w praktyce ich idealną przydatność do tego procesu.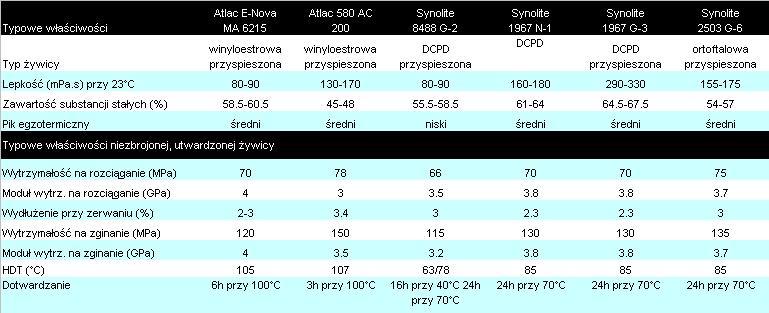 Powyższa tabela służy jako przewodnik umożliwiający wybór odpowiedniej żywicy. W celu uzyskania szczegółowych informacji oraz doboru właściwej żywicy do infuzji prosimy o kontakt z naszymi Przedstawicielami Techniczno-Handlowymi.
Jeśli chcesz otrzymywać powiadomienia o nowościach na naszej stronie raz w miesiącu oraz mieć wgląd do archiwum:
Rafał Sielicki

Przedstawiciel handlowy
Doradca techniczny
Biuro w Gdańsku
kom. 607 481 591
fax 058 691 01 85
e-mail:

Ten adres pocztowy jest chroniony przed spamowaniem. Aby go zobaczyć, konieczne jest włączenie w przeglądarce obsługi JavaScript.